What a journey it has been! You've researched retirement communities online, visited with staff, gone on countless tours, asked a million questions, and finally settled on one that is a great fit for you. They don't have the apartment you are looking for available just yet, so you put down a deposit and find yourself a member of your community's future resident club.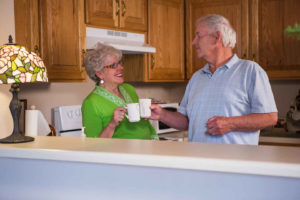 Now what?
For starters, you may want to take advantage of the opportunities that being a future resident presents. You can participate in special community events created to help you get to know other residents and staff. Once you have made a few friends, you can also enjoy a meal or two at the community and get a feel for the dining experience. You may even want to spend an evening in a guest suite so you can get an idea of what it is like to spend an entire day there.
Something else to keep in mind – people can invest so much of their time and energy into finding the right retirement community that, when the time comes for the actual transition from home, they feel unprepared for the move. In addition to getting to know the retirement community better, your time in the future resident club also gives you a chance to get a head start on that transition process. Here are a few things you can do to start getting ready for the move:
1+ Months Before Moving:

Create a floor plan of your new apartment and decide on furniture placement.
Get estimates from 3-4 moving companies and start a file for moving paperwork.
If not using moving company, reserve a rental truck.
Inventory your household goods and remove clutter – do it room-by-room.
Complete change-of-address notifications. Here are some examples:

Post office
Driver's License
Vehicle Registration
Voter Registration
IRS
Medicare and Social Security
Insurance
Cell Phone Service
Bank and Investment Accounts
Physicians and Dentists
Book Clubs
Cable TV
Renter's Insurance and Home Owner's Insurance
Home Security System
Church
Magazine/Newspaper Subscriptions
Credit Cards
Notify Friends and Relatives

Obtain medical records, legal and financial documents, birth certificates, passports and insurance documents.
Clean and fix carpets, drapes, and anything in your home that needs repair.
2-Weeks Before Moving:

Schedule disconnect of all utilities the day after you are scheduled to leave.
Transfer prescription medications and have adequate supply on hand if needed.
Keep critical items like checkbooks, wallets, credit cards, flashlights, medications etc..in a separate, safe location so they can be accessed quickly and easily.
Arrange refund of any "last month" deposits that need to be returned.
7 Days Before Moving:

Pack a travel kit and suitcase with clothing and other personal items.
Pack a box of items that will be needed first at your apartment. Label it as such.
Confirm moving date and time with professional movers (unless you are moving yourself).
Anything that is going in your car should be set aside so it does not get loaded into the moving truck.
Day Before/Day of Move:

Work ahead. An early start eliminates stress and confusion.
Check your home one final time before leaving – is heat/air conditioning off? Are the lights off? Has the water been shut off?
Give yourself plenty of time to get situated in your new apartment.
When items arrive check them carefully and, if working with a mover, note carefully on your paperwork any damaged items.
Being a future resident allows you to get to know your retirement community and the people in it on a much deeper level before you move. Having that familiarity with your new home – plus being prepared for the details of your move – takes much of the stress out of the transition. If you have additional questions about this process, we would be honored to assist you. Just visit www.primroseretirement.com for additional information or to contact the Primrose nearest to you.