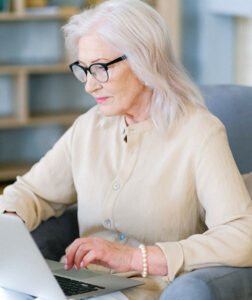 IMPORTANT QUESTIONS
"Can I test drive the community?" Many seniors feel that a test drive is the best way to evaluate a retirement community's environment. Often at stake is the senior's sense of independence, and moving away from home especially shakes that sense. To get an accurate feel for what they're getting into, seniors should ask the community if it offers guest suites or respite suites with shorter stay requirements. A short stay will provide a good appraisal of the apartment home's look and feel, staff performance, amenities, comfort, entertainment and activities, and dining experience.
DINE BEFORE YOU SIGN
First and foremost, your retirement community of choice should offer you an opportunity to dine in house. Senior living focuses on meal time as both social and physical needs being met. Considering the importance of diet and neighbors, this will be a significant deciding factor. If the food doesn't measure up, your next question might be, "Can I get that to-go, please?"
THE REWARDS OF LEAVING HOME
A retirement community should provide a sense of community! Are the senior residents enjoying life? Are there plenty of things to do? Is the community appealing both aesthetically and emotionally? Are the apartment homes comfortable and well-maintained?
Are there group activities? Community projects? A thoughtful retirement community will promote social activities to celebrate every senior's need for social well-being, while also focusing on the individual's interests and hobbies.
LET'S GET PHYSICAL
Working folks know the adage that there's nothing more rewarding than a hard day's work, but retirees need only occasional exercise. The retirement community you choose should have numerous outlets for physical activity — walking trails, fitness center, scheduled exercise activities — and preferably avenues for participating in the larger city community.
PROMOTING SPIRITUAL NEEDS
Does the retirement community have a chapel? Are there visiting pastors? Is there a Bible study group? Seniors requiring spiritual guidance or those who worship regularly shouldn't have to look far. At the very least, transportation should be provided to accommodate off-site worship times.
PARKING AND TRANSPORTATION PROVIDED
Many seniors continue to drive their own vehicles when they move to a retirement community. Garages and off-street parking are the bare minimum for senior drivers.
When seniors decide to stop driving, the retirement community should have a transportation program in place for shopping and appointment travels.
To find out more about senior living at Primrose, contact your nearest Primrose Retirement Community today. We'll happily answer all your questions and show you around our beautiful communities. Come see why we say, THIS IS LIVING!