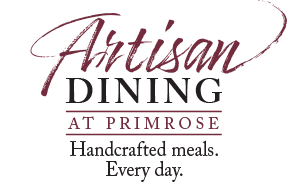 Many senior living communities feature cafeteria-style dining with limited meal options consisting of boxed, canned, or heat-and-serve foods. These meals are often not only low-quality nutrition for residents but also visually unappealing and unappetizing.
Fortunately, at Primrose, our senior living menu ideas are endless and delicious.
Our executive dining team has spent years crafting dishes of high-quality, nutritious menu options that you would expect to be served in a fine restaurant. Artisan Dining is currently available at select locations and coming soon to all Primrose communities.
HIGHLIGHTS OF THE ARTISAN DINING AT PRIMROSE:
• Open dining to restaurant-style hours: Serving from 7:00 am to 7:00 pm means you can eat your meals when you are hungry.
• Restaurant-style senior living menu: You get to choose your meal options and not settle for what is served.
• 12-week menu cycle: Weekly menus designed to feature unique dishes on a rotation that won't get monotonous.
• All meals cooked to order: Fresh, hot meals only made when you order.
• Scratch-cooked food: No shortcuts means more flavor and more nutrients.
• Ordering at your table: A complete restaurant-style experience with your order taken right at your table.
---
SAMPLE LUNCH MENU
You may mix and match from all selections.
---
STARTERS
Apple Sauce
Cottage Cheese
Small Side Salad
Chicken Noodle Soup
Soup of the Day
---
MAIN COURSE
Entree Sized Salads:
Crispy Chicken Salad
House Salad
Dressings: Ranch, Caesar, Balsamic Vinaigrette, 1000 Island
Chef Specials:
Four Cheese Manicotti
Steak Fajitas
Chicken and Dumplings
Additional selections:
Pub Burger
Chicken Tenders
Hot Dog
Sandwich:
Ham, Roast Beef, Egg Salad, Tuna Salad, Turkey, Grilled Chicken Breast
---
SIDES
House Made Pasta
Baked Sweet Potato
Mashed Potatoes
French Fries
Onion Rings
Potato Chips
---
VEGETABLES
Roasted Baby Carrots
Cream Corn
---
DESSERT
Fresh Fruit
Ice Cream
House Made Cookies
Gelatin
Cup Cakes
---
Breakfast is always available:
Eggs, Omelets, Bacon, Oatmeal, Pancakes, Waffles, and Sausage.
---