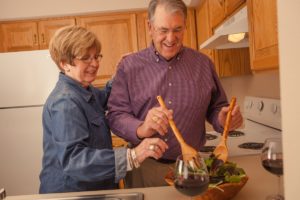 May is Older Americans Month
This May, we celebrate the 50th annual Older Americans Month. First declared by President Kennedy in 1963, every President since has made a formal declaration recognizing May as Older Americans Month. This year's theme for Older Americans Month is "Unleash the Power of Age."
Here at Primrose, we certainly don't need a Presidential declaration to remind us of the important and influential role our residents and their families play in our communities, towns, and across our country. However, this designation gives us a wonderful opportunity to recognize the wealth of talent, experience, and wisdom that each of our residents have to share.
The United States Administration on Aging encourages retired Americans to "unleash the power of your age" and "look for opportunities to show the vibrant life that our residents and all older Americans lead." This challenge goes hand-in-hand with our mission here at Primrose. In the month of May, we want to especially encourage each of our residents and their families to take some time and write down some of your stories, advice, wisdom, and experiences. Your words and lives have the power to impact and affect current and future generations in unbelievable ways. However, the job falls to you to take the time to write them down. No story is too short or too long. Whatever you want to write, we want to help you share.
So, in this, your month, we celebrate and thank you for your leadership, guidance, and direction yesterday, today, and tomorrow. Enjoy your month, and look for ways to "unleash the power of your age." Remember, if you think of an idea or activity that we could do to help celebrate and raise awareness of this month, let us know by leaving a comment below!
by Dylan Kessler
Primrose staff writer
To find out more about the senior living experience at Primrose, please contact your nearest Primrose Retirement Community today to see more of our fun and social living. We'll happily answer all your questions and show you around our beautiful communities. Come see why we say, THIS IS LIVING!