Did you know that Americans spent over $60 billion on pets in 2015? We certainly love animals in this country – and for good reason. That furry puppy or kitten in your lap can help you to reduce stress, lower high pressure, and decrease your cholesterol among other things.
More than just a companion
For seniors, this is especially important, as is the increased social interaction that comes from having a friendly puppy on a leash as they take a walk through their local city park.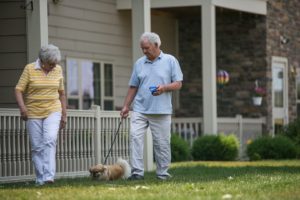 Of course, if you own a pet that needs to be walked, that means you are also going to go for a walk. Increased physical activity is a major benefit of having a pet, because it can result in weight loss and strength gain – both of which contribute to lower medical costs, fewer minor health problems, and a general feeling of well-being that is good for both the body and the soul.
If you are living alone, having a pet for a companion can help you to feel less lonely too. The Journal Anthrozooz indicates that, for seniors who are experiencing isolation or who may be mourning the recent death of a loved one, having a pet makes these difficult times easier to handle. A one-year study of adults age 65 and older in the Journal of American Geriatrics also finds that pet ownership enhances their day-to-day activities and overall health.
Find out if your pet can accompany you
If you own a pet, make sure to ask the retirement communities that you visit if they are allowed. Pet policies differ from place, and there are many variables at play including the type and size of pet that may be accepted. If pets are not allowed, you may also want to ask if therapy animals are utilized. They are extremely popular and, while perhaps not a replacement for a personal pet, can provide companionship and entertainment for residents on a regular basis.
At Primrose, we are proud to be pet-friendly. Many of our residents across the country have pets, and they are happy to share them with other residents and visitors whenever the opportunity arises. If you have any additional questions about pet ownership, or about senior living in general, Primrose would be honored to assist you. Just visit www.primroseretirement.com for additional information and for contact info for the Primrose closest to you.