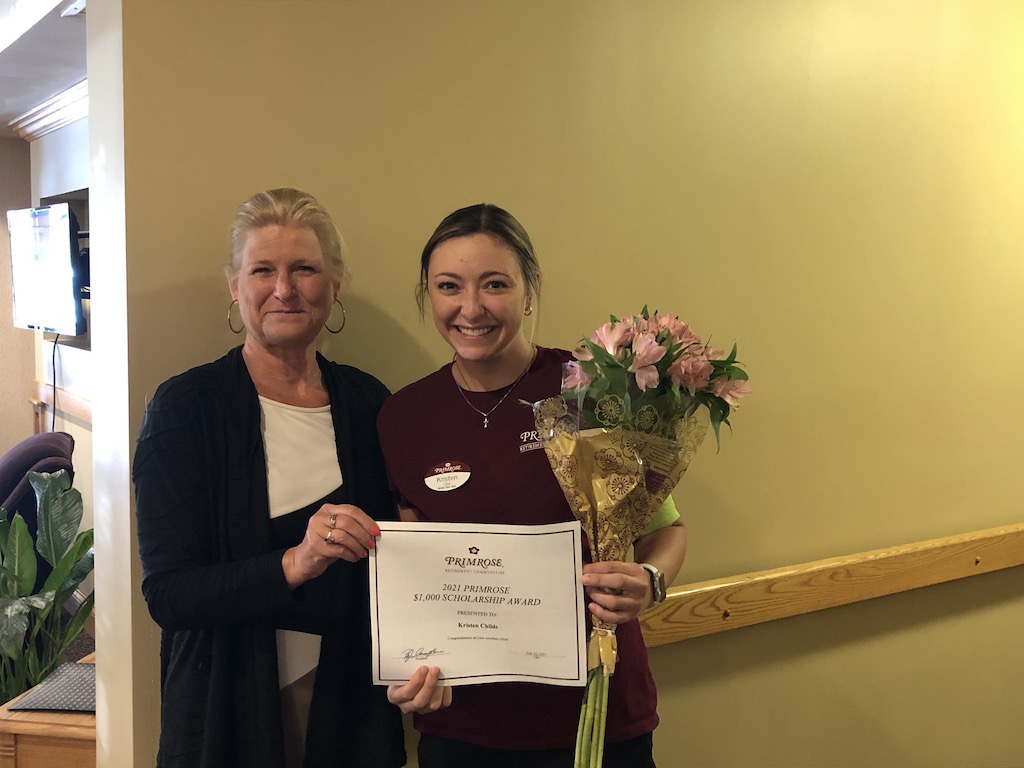 Primrose Retirement Communities, L.L.C. has named Kristen Childs, of Kokomo, a recipient of their annual $1,000 Education Scholarship. The announcement was made on August 17, 2021, during a virtual awards ceremony.
Childs currently works as a CNA at Primrose of Kokomo, IN, while also attending Indiana University Kokomo. She is pursuing a Bachelor of Science in Nursing with a minor in Psychology.
About Our Education Scholarship
The Primrose Education Scholarship award is given annually, and this year there were three employees chosen to receive it. This award is given to dedicated students who masterfully balance their scholarly responsibilities with their duties to provide dedicated service and care to Primrose residents.
Primrose Retirement Community of Kokomo consists of 36 independent living apartments, 32 assisted living apartments, and 12 townhome villas.
About Primrose
Primrose Retirement Communities, LLC, headquartered in Aberdeen, South Dakota, provides high-quality independent living, assisted living, and memory care communities across the country which specialize in personalized services and resident-focused care. Our mission is to create happy and healthy living environments for seniors. Since the opening of the first Primrose community in Aberdeen in 1991, Primrose has grown to include over 40 locations in 19 states.
FOR MORE INFORMATION:
Jessi Weldon
Director of Sales & Marketing
605-226-3300 ext. 3988
jweldon@primroseretirement.com
www.primroseretirement.com