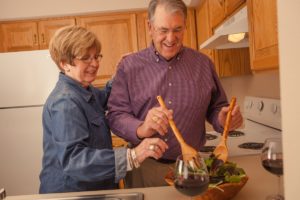 As an older adult, maintaining a healthy lifestyle should be a high priority. Proper diet and exercise will go a long way toward helping you to maintain an active, independent lifestyle and minimize the risk of disease. According to the United States Department of Agriculture, there are a number of healthy choices seniors can make to stay healthy.
Keep drinking
Keeping your body hydrated is very important. Two liters (nine, eight-ounce glasses) of fluid per day should be the goal, and while milk, soup, coffee, or tea will work, the best fluid you can put into your body is pure water. Drinking two liters of fluid per day may seem daunting, but if you drink a glass with each meal, in between meals, and one in the evening you are already 2/3 of the way there. Keeping water within arm's reach throughout the day by placing it in your car, purse, backpack, etc. will help ensure that you cover the other three glasses.
Make small adjustments to your eating habits
Instead of using salt on your foods, utilize herbs and spices to give it that extra kick of flavor you are looking for. Also, be intentional about adding fruits and vegetables to your meals if you are not doing so already. Slicing them up and putting them in baggies in the refrigerator will provide a quick and easy way to have something healthy at hand when you feel a craving for a snack coming on. To maintain a good level of calcium, drink three cups of fat-free milk throughout the day.
Remember to include fiber
The digestive system tends to weaken with age. Women age 50+ should consume 21 grams of fiber each day and men 30 per day. Nuts, beans, fruit, vegetables, and whole grains are good sources of fiber.
If you have questions about nutrition for yourself or a loved one, Primrose would be honored to help. Just visit www.primroseretirement.com for more info.