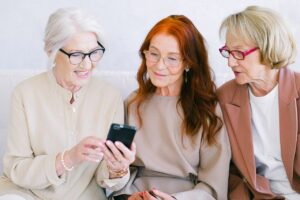 Everyone knows that the secret to healthy living well includes exercise and eating well. However, not everyone knows that there is another factor which is equally as important as regular exercise and a healthy diet: socialization.
Again and again, scientific studies have shown that socialization can help us live longer, healthier, and happier lives. The tangible health benefits are undeniable. In one study, scientists even found that those who stay more socially connected have a greater resistance to the common cold! Other studies have shown that people who have close friends are more likely to:
• Stay Mentally Sharp – Maintaining friendships creates an environment for good conversations and discussions, which help foster a healthy cognitive state and prevent decline.
• Have Less Stress – Having a friend to talk to has been shown to help relieve stress, allowing you to relax.
• Have a Better Immune System – It has been well-documented that those with active social lives are less likely to suffer from common viruses and can recover quicker from illnesses.
• Sleep Better – A University of Chicago study suggests that the lonelier a person is, the more restless their sleep will be.
• Live Longer – When considering all the other health benefits of maintaining friendships, it is not hard to believe that people with stronger social connections are 50% more likely to enjoy longer lives. This means that the risk of not having friends could be as damaging to one's health as smoking.
Studies have also been careful to note that staying socially connected and maintaining friendships means more than keeping up with someone on the computer. The key is face-to-face interaction. While computers and social media sites like Facebook are great for staying in contact with friends who are far away, there is just no substitute for sitting across the table from a friendly face.
One of the main focuses of Primrose is socialization, and we are very proud that we can offer so many opportunities for our residents. So, for the sake of your health, get out there and socialize. Whether it is coming over to Primrose to play cards in our Bistro, stopping by for happy hour in our Pub, or just sitting down with someone new at lunch or for a movie in the Primrose Theater, you will not regret time spent with friends!
by Dylan Kessler
Primrose Staff Writer
To find out more about the retirement living experience at Primrose, please contact your nearest Primrose Retirement Community today to see more of our fun and social living. We'll happily answer all your questions and show you around our beautiful communities. Come see why we say, THIS IS LIVING!