Are you are taking care of a loved one with dementia? Perhaps you have reached a point where you believe that a move to a memory care community is the best choice for the health and happiness of both you and your loved one. This topic can seem difficult and intimidating, especially if there is resistance to the idea. Here are a few things to consider before having that conversation: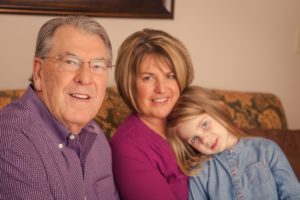 Are your loved ones capable of making this decision on their own? Remember, if their dementia easily leads to confusion or causes them to struggle with small decisions, they will likely struggle with more significant ones as well. Someone who is having trouble remembering faces, or who requires assistance dressing or taking medications on time and in the right amounts, is likely unable to determine on their own whether or not they can live alone safely.
Know what to say and who will say it
It is important to remember that anything can happen when the topic of moving to a memory care community is discussed. Your loved ones may agree that they need to make a move for their own safety and for the well-being of their family. They may also react in anger and say things in response that you may find shocking. If this happens, you have to remember that it is the dementia talking and not your loved one. It can be difficult for someone living with dementia to control their emotions, so it is important that the person doing the talking is strong enough to handle it if the reply is less than courteous.  If they are unhappy with the idea of making a move, try talking through the issue with them. Ask them why they are struggling. Help your loved ones to think through their fears and verbalize them so you can have a discussion together. Reassure them by letting them know that they will be moving to a place where they can still do all the things that they love. Let them know that you love them and that you want them to be safe and happy, but stay focused and keep your concerns front and center.
Making the move
No matter your age or physical condition, moving is difficult. It will take time, perhaps six months or more, for your loved ones to get used to living in a new place – but when moving day arrives, there are some things that can be done to make the process a bit easier.  Re-create the place that makes them most comfortable. Where do your loved ones feel the most comfortable in their home? Around the kitchen table? In their favorite living room chair? At their sewing desk? Wherever that place may be, you'll want to move it to their new home and re-create it exactly as it is in their current one. This will provide a sense of familiarity and comfort.
Preserve routines
When getting up in the morning, does your loved one prefer coffee and a newspaper prior to getting ready? If your loved one had a tough day, would they prefer to wind down alone while sipping their favorite drink or would they prefer to be around a few people they love to help them chat about their day? After they are done reading their favorite book, do they put it on a shelf or do they place it under their pillow? It is important to observe these types of small routines and then replicate them. So after you've made the bed, be sure to place that favorite book under the pillow, just as it was at home.
If you have questions about dementia and how it is affecting your loved ones, Primrose would be honored to help you. Just visit www.primroseretirement.com for additional assistance.