Over 10,000 people turn 65 every day. At some point, most of us will need to address the question of how to handle the changing health needs of our aging loved ones. Every year, there are approximately 44 million Americans providing 37 billion hours of care. While this experience can be very rewarding, it can also lead to increased levels of stress and fatigue which can be detrimental to family relationships. These caregivers are a part of the "sandwich generation" – middle-aged adults who care for an aging loved-one while still working full-time and caring for their own families.
Professional care = better health
Sometimes, aging parents in need of assistance are resistant to the idea of moving to a retirement community. They can become reliant on their children to provide them with the help they need to remain at home.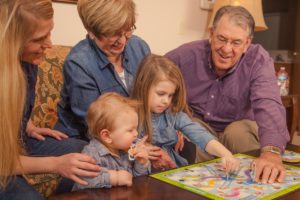 This can be a good thing if the need is minimal – but it can cause strain on the parent-child relationship if care needs are too demanding or if health conditions are unfamiliar to the caregiver. In a senior living environment with assisted living services, the care needs of each resident are assessed individually. A personalized plan specific to those needs and with the individual's health and safety in mind is then developed and administered by a professionally licensed nursing staff. Medication is properly distributed, healthy dining options are plentiful, activities are provided, fellowship opportunities are abundant, and the environment is relaxed. In fact, residents often find that they become more independent than when they were at home because their care needs are more effectively met and they become stronger and healthier as a result.
A new outlook on life and family
Once the transition to a retirement community is complete, an adult child is given a renewed opportunity to focus on their own personal needs and those of other family members. Relationships with loved ones take on a new identity as well – as the focus switches from a constant concern about health and well-being to the pure enjoyment of spending time together in a worry-free environment.
If you or a loved-one have questions about finding the right senior living option for you, we would be honored to help. Visit www.primroseretirement.com for more information.