Your home is your sanctuary. It supports your lifestyle, meets all your needs, and provides you with joy and satisfaction. At least, it did when you were younger.
The truth is as we age, our needs change, and the mundane tasks we do around the house (i.e. cleaning, laundry, and maintenance) start to become harder and take longer to accomplish. Time is precious, and for most of us, we'd rather spend our days doing activities we feel passionate about with the people we love most.
If your home has lost some of that loving feeling, Primrose's independent living communities may be the solution you're looking for.
Independent Living Starts at Primrose
You may be reluctant to leave your home. And we can understand that. After all, your home is a special place. It's where you raised your family, celebrated birthdays, shared Thanksgiving dinners, and much more. And it's likely each room in your home brings back sweet memories of the past.
For some, homes represent more than just memories; they represent independence, too. So, it's understandable why you may think moving to a senior living community means giving up your autonomy. But that couldn't be further from the truth.
At Primrose, we celebrate independent living and design our communities to offer residents unlimited access to exciting amenities and group activities that allow them to live the lifestyle they see fit.
Let's take a quick look at what we mean.
Independent Living Apartments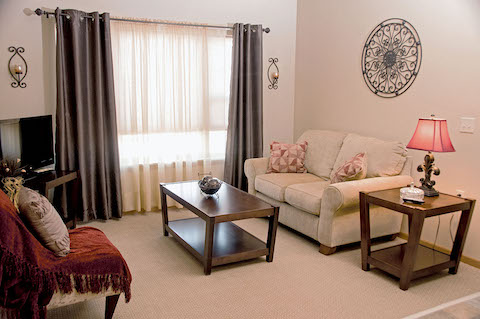 Imagine moving into a spacious apartment that features all the cozy luxuries you're used to with the added convenience of nearby entertainment. That means rather than getting into your car to go meet friends for a cup of coffee or movie, you can simply leave your private apartment and walk down the hallway.
We'd also like to point out that rather than worrying about climbing stairs or worrying about falling in the shower and needing help, your Primrose apartment is designed to support your independent lifestyle without the disruption of architectural hazards that may cause injury. In fact, at Primrose, you really have the best of both worlds: complete privacy with 24/7 nursing right round the corner.
Maintenance-Free Lifestyle
It's time to put away the toolbox, unless, of course, building is your hobby. At Primrose, you never need to worry about fixing another leaking faucet or shoveling heavy snow from your driveway. You have a team of friendly, compassionate individuals to do that work for you.
We take pride in the dedicated team we employ at each one of our communities. They get to work every day to make you feel at home and comfortable in your surroundings. Need a light bulb change? Our team is on it. Looking for a break from weekly shopping or laundry? We have concierge services to cover that for you!
At Primrose, you can expect easy living and peace of mind. A luxury you deserve and something we promise you will soon get used to!
Contact your local primrose for more information
Games, Activities, and New Experiences
Remember when we said your home reminds you of favorite memories from the past? Well, what about the next chapter of your book? What are some activities and hobbies you want to pursue now that the kids are all grown up and you're retired?
Life is filled with new adventures and new relationships with people who fill our heart with laughter and joy. At Primrose, you'll discover a fun, engaging environment, where residents become life-long friends and enjoy endless amenities to fill their days.
From group fitness classes to ice cream socials, book clubs, and the best bingo night in town, we have so many different activities for you to try.
Are You Ready to Love Your New Primrose Home?
At Primrose, you'll quickly discover that not only will you love your home, but your Primrose home will love you back, too.
As your lifestyle changes, and you require assisted living care, we'll work to ensure that your home supports your needs, as they change, and you feel supported every step of the way.
To learn more about our senior living communities, check out our virtual tours, photos, and social platforms. You can also schedule a visit to view our communities in person.