We all hope to age gracefully, but to do so, we need a "whole" body approach to senior living. Think 360° of self-care—the physical, mental, social, and spiritual aspects of a person's life that inspire them to wake up and seize each new day!
From staying active to connecting to those in your community, seniors can maintain their physical and mental health in many ways. Below, we've compiled a list of the best senior wellness tips for 2023.
Exercise Regularly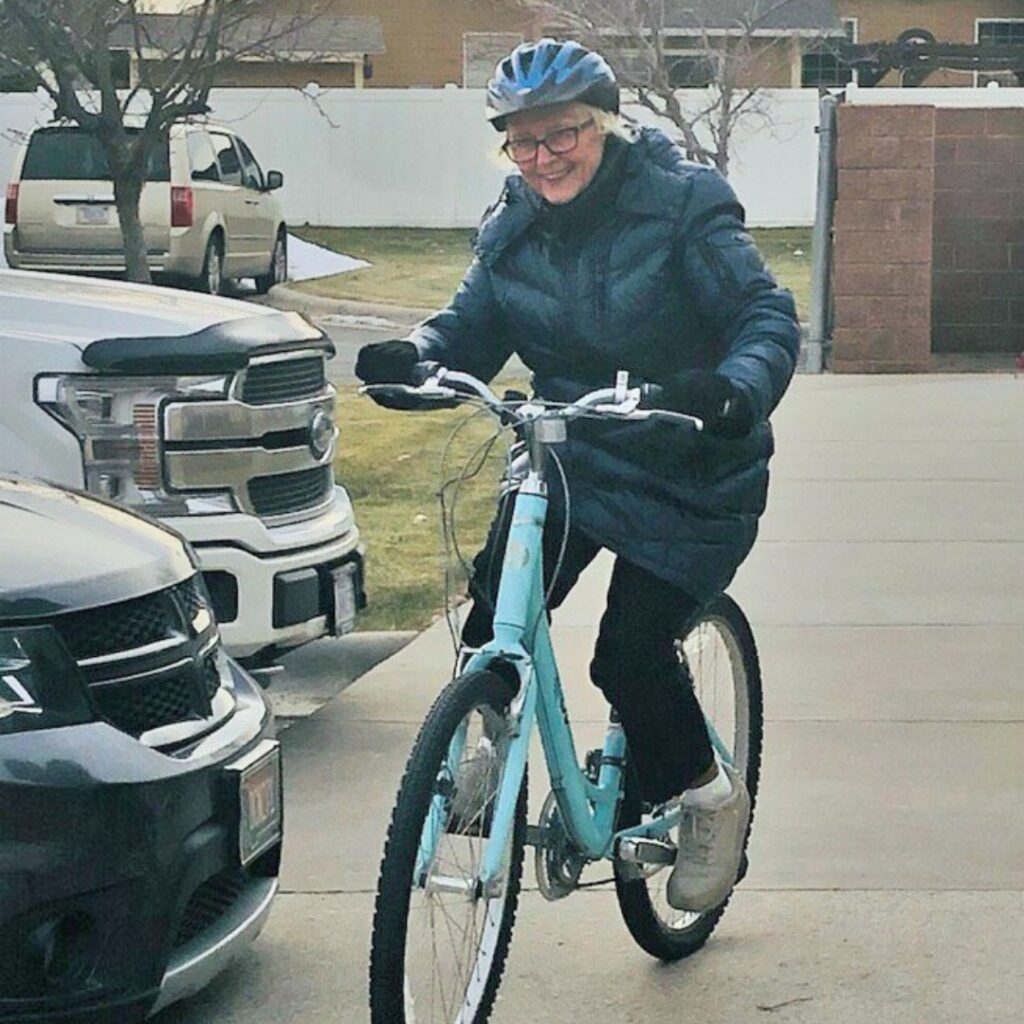 You hear this advice from your doctor, grand-influencers, and close friends, but the physical and mental health benefits we get from exercise cannot be stated enough.
Getting up, moving, and grooving helps us maintain physical mobility and improves mental health and cognitive function. It's recommended that adults 65 and older need at least 150 minutes of moderately-intense activity a week. That equals about 30 minutes a day, for 5 days, of brisk walking. Of course, walking is just one way to get the muscles working and the heart pumping: swimming, hiking, and cycling are other great examples.
Always consult with a healthcare professional before starting a new exercise routine, and consider working with a personal trainer or joining a senior fitness class for guidance and support.
Eat a Balanced & Nutritious Diet
As we age, our bodies require different nutrients to maintain optimal health. Eating a balanced diet with nutrient-dense options can help seniors maintain a healthy weight, reduce the risk of chronic diseases, and improve overall well-being.
When meal planning for the week, try to:
Stick to fruits, vegetables, whole grains, lean proteins, and healthy fats.
Avoid processed and sugary foods, as they can increase inflammation and contribute to chronic health conditions.
As with exercise, be sure to consult with your clinician about the best types of nutrient-dense foods to add to your grocery list.
Get Enough Sleep
A lack of sleep can lead to various health problems, including memory loss, depression, and an increased risk of falls. Therefore, it's essential to establish a relaxing bedtime routine and create a comfortable sleep environment to promote restful sleep.
Try to shoot for 7-8 hours of sleep per night and take daily breaks to rest and recharge.
Manage Stress
Finding a hobby or activity that brings you joy and helps you relax can be beneficial for managing stress. Activities might include:
Yoga
Meditation
Deep breathing exercises
Nature walks
Remember to prioritize self-care and take time for yourself to recharge and rejuvenate.
Stay Socially Connected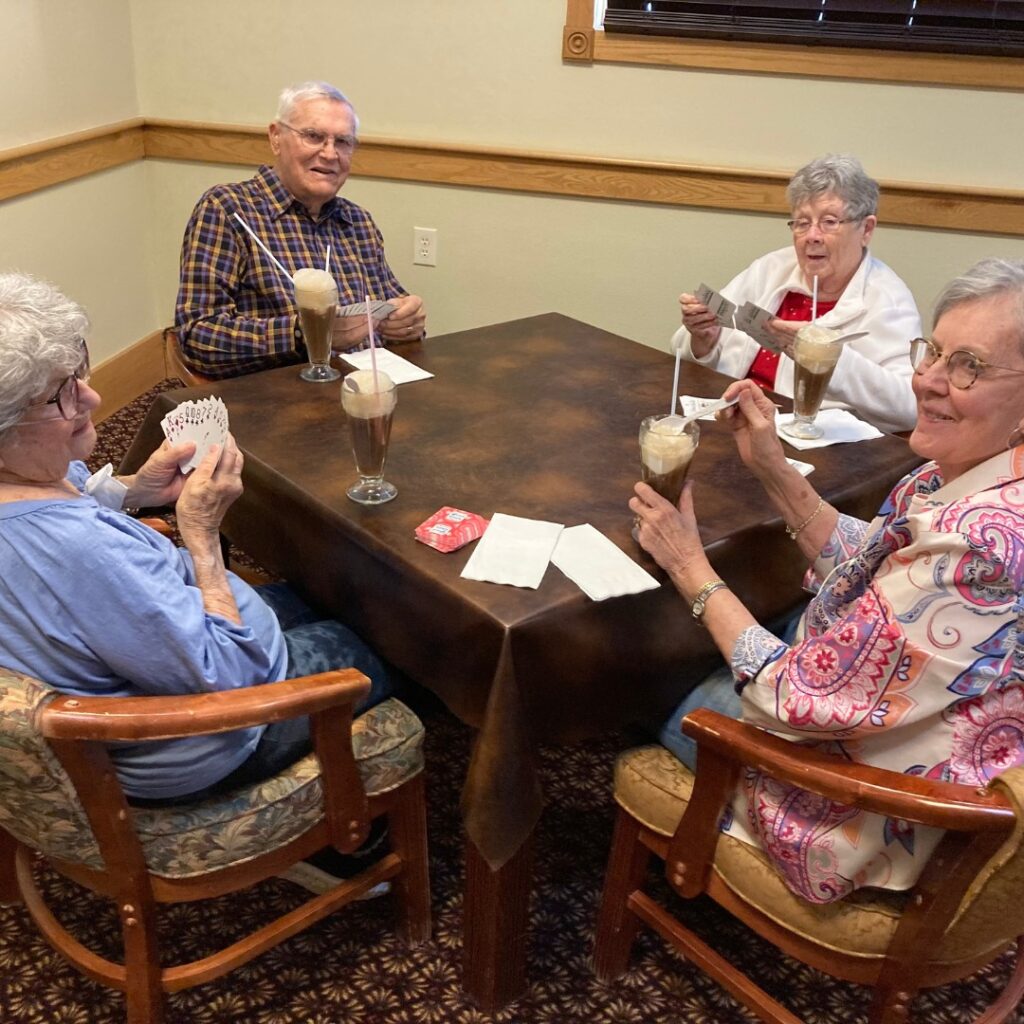 Building and maintaining positive relationships is essential to everyone's health. But, as we age, staying connected to our social groups becomes more challenging than it once was. For example, the following scenarios are all too common among seniors:
Less mobility
Maybe you drive less or not at all. As a result, you must rely on public transportation or the help of family to run errands, shop, or visit loved ones.
Less energy
The less we do, the more tired we feel. And the more we stay sedentary, the more likely we are to make excuses for being inactive throughout the day.
Less socializing
Limited mobility and less energy can leave us feeling isolated or unable to socialize with family, friends, and our communities as often as we did before. Perhaps the long winter kept you indoors and unable to travel to church to meet with friends, or a recent injury or surgery has left you homebound—away from the hobbies you enjoy most.
So, how do you fit socialization into your routine in 2023 and beyond? Moving to a retirement community might be the last thing on your mind. But it may surprise you to learn that communities like Primrose provide senior wellness opportunities that complement your passions and help you mentally and physically thrive every day.
At every Primrose location around the country, we offer:
Weekly Activities
Every community offers a weekly calendar packed with fun activities and social events. From ice cream socials and bingo to arts and crafts, book clubs, church services, live music, and trivia, there's always somewhere to be and someone to see when you live in one of our communities.
Senior Wellness Center
You can enjoy a weekly group fitness event, but we also offer residents access to our wellness center. Each center includes exercise equipment, yoga mats, and resistance equipment to work out on your own—on your schedule!
Walkable Communities
Every Primrose community offers close access points to its amazing amenities, so whether you live in a townhome villa or apartment home, everything you need to stay active and social is close by and often within walking distance.
Chapel
Our residents also have access to our community's chapel—always within walking distance from your home. This means you don't need to travel far to sing and worship with fellow neighbors on Sunday, attend Mass, or join a weekly Bible study group.
Game Room
According to American poet Diane Ackerman, "Play is the brain's favorite way of learning." We couldn't agree more. That's why we also offer residents access to our community game room, where they can play pool, chess or enjoy other board games with friends and visiting family.
Library
Who doesn't love relaxing in a quiet space with their favorite book in hand? Each Primrose is equipped with a library room for residents to unwind and get nose-deep into their favorite narrative genre.
Senior Wellness Programs—Life Enrichment
Though senior wellness has and continues to be a top priority in our communities, we're always on the lookout for new experiences and opportunities we can share with our residents to help enrich their lives.
One such program is our Primrose Senior University (PSU). We offer residents lifelong learning opportunities they won't find anywhere else.
From taking courses on ancient civilizations and mythology to learning about America's favorite captains of industry, pastimes, and national parks, our residents have new opportunities to expand their minds while they learn, create, share, discuss, and engage on a diverse variety of topics.
These programs are designed to reflect each of our resident's interests and are based on Primrose's Six Dimensions of Wellness: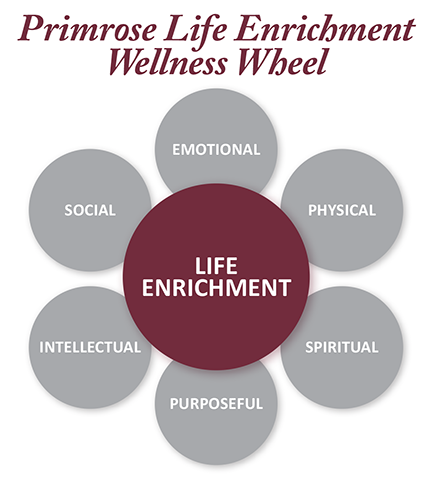 Purposeful
Emotional
Physical
Spiritual
Intellectual
Social
As noted before, senior wellness requires a 360° approach. And that is exactly what you'll discover at Primrose.
You will find the following programs that are designed to provide a holistic wellness experience each day:
Wellness Centers (for fitness, meditation, strengthening, and mobility)
Nutritious Meal Plans
Weekly Social Events
Worship Services
Arts & Crafts
Game Rooms
Walkable Communities
Convenient Transportation
Our goal is always to give residents every chance to stay active and pursue their passions, regardless of age or ability.
Senior Living Starts at Primrose
We encourage you to check out our communities page to learn more about living at Primrose. From there, you can select a location near you and take a virtual tour of its community.
You can also view our photo galleries and discover more about our personalized services and housing options. We'd be delighted to welcome you and show you around if you'd like to schedule an in-person visit.
For all other questions, contact us today!