"The greatest fear in life is not death, but unsolicited change."  These words, penned by an unknown, but obviously very wise, author summarize the plight of many seniors who find themselves at a common crossroads.  Do we stay in our home, despite the fact that it may be getting difficult for us to maintain, or that we may be declining in health and in need of assistance?  Or, do we relocate to a retirement community where we can receive assistance with our health-related issues, and let someone else take care of the maintenance?
On the surface, the answer seems simple.  Give yourself a break!  Improve your health and enjoy a carefree retirement, right?  Who could possibly say "no" to that?  If these were the only factors at play, the decision would be a slam-dunk, but they are not.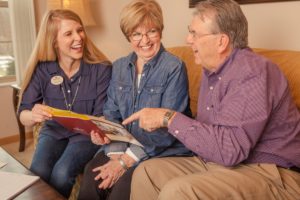 Knowledge is Power
Many seniors who have reached this crossroads in their lives are afraid to make a move, even though they know it is the best thing for them to do, because they are experiencing a fear of the unknown.  They have spent decades in the same home, raising families and storing up irreplaceable memories.  They cannot bear the thought of leaving them behind and starting over again in a new place, surrounded by new people.
It is an understandable fear, the fear of the unknown, but one that can be conquered.  It is often said that knowledge is power.  With this in mind, it may be helpful to begin the relocation process by doing some simple, no-pressure research on the options available to you in your area.  You can utilize the internet to help.  Your local library or chamber of commerce should also have senior housing information available, or perhaps you have friends or family currently living in a community that you could talk to about it.
Another helpful exercise to bring things into perspective is to grab a piece of paper.  Divide it into two separate lists by drawing a line down the middle.  On one side, write down all of the benefits of moving, and on the other side, list the objections you have to moving.  Put the sheet away for a few days, then retrieve it and read your answers.  This will give you a fresh look and may help you to see the path you need to take a bit more clearly.
Taking these steps will help to instill confidence.  The more you know, the less you will fear.  Remember to share your feelings with a friend and/or loved one, you don't have to go through this process alone.  Develop a short-list of communities, then go visit them.  Get to know the staff and residents by staying for lunch or a special community event.  Ask questions based off the research you've done and the list you've created.  Once you have accomplished these things, determining the path you should take at your crossroads should be a much easier task.
If you have any questions about this or any other issues, Primrose would be honored to assist you.  Just head to www.primroseretirement.com for more info.