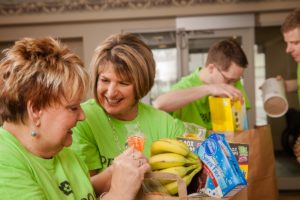 Former religious leader and author Gordon Hinckley once said, "One of the great ironies in life is this: He or she who serves almost always benefits more than he or she who is served." Volunteers play a vital role in
spreading kindness within our communities and helping those less fortunate than themselves, and senior citizens play a huge role. In fact, 23.5 percent of seniors in the U.S. volunteered in 2015. Science is now proving what those who volunteer have known for years – that there are many benefits associated with serving others. Here are just a few:

You will feel better
When asked, many volunteers will say that taking time to help others gives makes them feel good. According to an article in Psychology Today, volunteers live longer, healthier lives and they experience fewer aches and
pains. The article also indicates that giving to others protects overall health twice as much as aspirin protects against heart disease, and it provides a stronger e?ect than exercising several times per week!

You will learn new skills
No matter your age, taking the time to volunteer will expose you to new opportunities to learn things you may never have considered doing before. It is good to explore and to develop new hobbies. It exposes you to a new world of di?erent people to spend time with and can lead to many lifelong friendships and unique life experiences.

Your brain will thank you
As we age, we become more likely to experience the symptoms of depression. Volunteering can help combat these symptoms by providing access to social settings where it is easy to interact with others. Volunteering increases feelings of self-worth, and making a di?erence in peoples' lives can often help friends and loved ones find new meaning in their own.

If you have questons about volunteering, Primrose
would be honored to help you fnd opportunites in
your community. For more informaton, just visit www.
primroseretirement.com.