In the twelfth episode of the 'Visits from the Heart' series, we shift gears from learning how our residents are dealing with the pandemic and focus on their rich life stories. Mark McNeary, General Counsel for Primrose Retirement Communities, had the pleasure to kick it off with a glimpse into some history of America's favorite pastime, baseball! Mark meets Carl Erskine; a former Major League Baseball (MLB) Brooklyn and Los Angeles Dodgers player, two-time World Series Champion, and current Primrose resident.
Carl and his wife Betty, have lived at Primrose in Anderson, Indiana for nearly two years. While he doesn't drive anymore, he appreciates the Primrose shuttle for transportation needs, when his son who lives nearby, isn't able to assist with errands. Carl and Betty are the proud parents to four children. As Carl goes on to share a little bit about each of his four children, who are from 60-70 years old, he is a bit amused to be reminded that his children are 'that old'.
The conversation shifts as Mark informs Carl that he has been doing some homework about him online. Carl jokingly admits that his former 'job' kept all the records, so there's no hiding those details.
Carl begins by sharing how he started pitching when he was around nine or ten years old. That was before little league days, so they played on a regular sized baseball diamond. A few years later, during his sophomore and junior years of high school, MLB team talent scouts started showing up on the sidelines. As a pitcher, Carl was scouted along with his friend and catcher, Jack. Carl shared with Mark that in those days, the scouts learned about prospects in a much more low-tech way such as through word of mouth and from articles in the sports section of local newspapers.
After graduating high school, a scout for the Brooklyn Dodgers invited them both to New York to work out with the team. That was all it took for Carl to know that pitching baseball for the Dodgers was what he wanted to do. However, another duty called, and he was soon drafted into the U.S. Navy. During those couple of years of service for his country, the MLB scouts continued to pursue him. Once he was out of the Navy, he signed with the Dodgers to play in the Minor League.
After spending about two years in the Minor League, he made it to the Major League in 1948. Carl mentions how brilliant he thought that the Dodgers' owner, Branch Rickey, was at the time. Rickey wasn't brilliant because he signed Carl, but for previously signing Jackie Robinson, the first MLB player to break the color line. Carl went on to play with the Dodgers in Brooklyn for ten years. In 1958, the team moved to Los Angeles, where he spent another two years with the team before retiring from the game.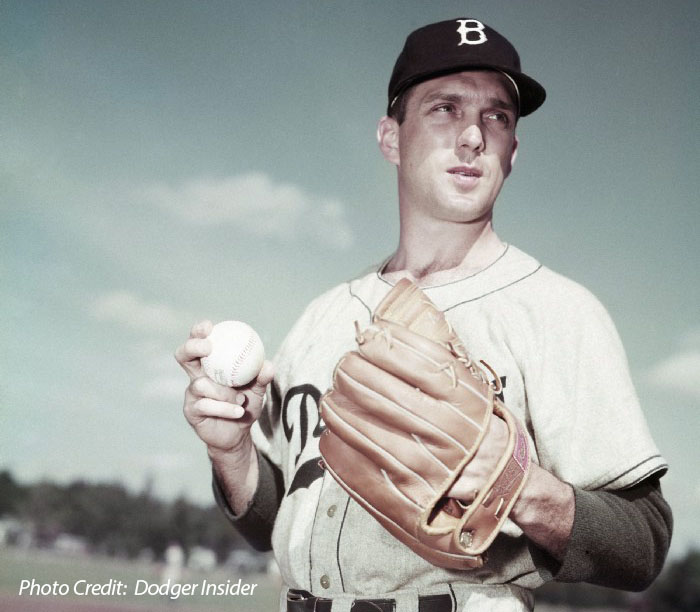 Mark inquires if Carl was a starter or a relief pitcher. Carl shares that back in his time, having another pitcher relieve you after several innings was a sign of weakness. Pitchers took great pride in pitching entire games and were insulted to be 'relieved' of pitching duty. During contract negotiations, it was common for a pitcher to use how many complete games they pitched as a key selling point. Pitch count is the current practice for pitchers, from little leagues to MLB. The goal is for a pitcher to keep his number of pitches low to prolong his overall stamina, and to avoid strain and injury. This is not just in the current game but for upcoming games as well. Ironically, in Carl's case, the longer he was in the game, the stronger he felt.
Carl shares with Mark his overhand throwing style often made it a challenge for both left and right handed hitters. He goes on to describe several types of hitters, such as free-swingers, a person who tends to swing at any pitch. Mickey Mantle was a free-swinger and Carl points out that he struck Mantle out a lot because of the fact. But contact hitters, like Stan Musial of the St. Louis Cardinals, had a gift to be able to read pitches, and therefore, he could hit them where they were pitched and that made him tough to strike out. Carl learned just a few years ago that it was Musial that he faced the most in his 12-year MLB career. After pitching over 300 innings against the Cardinals, Carl and Stan faced each other across the plate 164 times. Carl jests that the best strategy for pitching against Musial was to strike out the hitters before him so you weren't stuck with the bases loaded and Musial getting a hit that could bring them all home.
Carl continued sharing stories about some of the great players he spent time with on the field such as the nine seasons he spent with teammate, friend, and Hall of Famer; Jackie Robinson. He also enjoyed time off the field with Robinson while working with youth organizations. Then there was his roommate in Los Angeles, Hall of Famer Duke Snider, and his catcher, another Hall of Famer, Roy Campanella.
And if a 12-year career in Major League Baseball wasn't enough, Carl was also able to be part of a National League Championship team six times and played in five World Series: four times as a player and the last time as a coach. Four of those World Series were matchups against the New York Yankees. Playing against the Yankees seemed to be a bit of a sore subject for Carl as he quipped, "We'd play seven games, and we would always lose the seventh game." But he proudly shares that in 1955 they managed to bring home a big Series win against the Yankees. That was the only time in the Brooklyn Dodgers history they won the World Series. Then in 1959, in Los Angeles, the Dodgers won another World Series. He coyly boasts about his good fortune of winning two World Series Championship rings, one on each coast. With just under six years being the average career length of an MLB player, Carl's 12-years in MLB was nothing short of memorable. Some might even say it was historic. In Carl's own words, "that was quite an accomplishment for the fans to have a World Series team." How refreshing is that? The win wasn't about the organization or even his teammates, it was about the fans.