Life Enrichment Philosophy
The Primrose Life Enrichment philosophy is lived out in a four-pronged approach:
Lifelong Learning Mindset – We are so passionate about providing an environment that supports continuous learning at any age that we developed Primrose Senior University.
Signature Engagement Programming with Full-Time Staff – Our focus is on Intentional Engagements, which facilitate lasting connections. By utilizing support from our Home Office, ideas and best practices shared from other Primrose communities across the country, and the interests and preferences of our residents, our full-time Life Enrichment Coordinators build programs that are tailored to our residents.
Wellness Wheel Model – Our Wellness Wheel ensures that our programming includes areas that engage the whole person by utilizing the Six Dimensions of Wellness. This is the standard by which we measure our monthly programming.
Family Connections – Primrose utilizes specialized software that allows for greater family connection and communication. This complimentary tool can aid our staff in capturing special moments to share with family and friends while optimizing resident-focused care.
Contact us to visit our community during an activity and see why our residents say, "This is living!"
Signature Engagement with a Lifelong Learning Mindset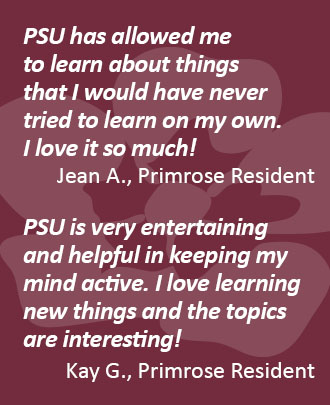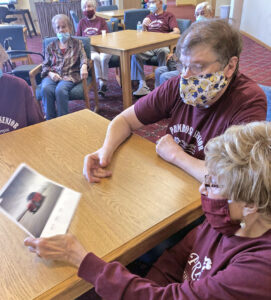 Primrose Senior University (PSU) held its first class in 2018, and since that time, we have had thousands of Primrose residents learning, laughing, and creating. Our senior living residents have lived purposeful lives filled with unique experiences and are the epitome of what we call Lifelong Learners.
As part of our commitment to enrich and engage the daily lives of our residents, every Primrose community is filled with opportunities to learn, create, share, discuss and engage. Residents come together and share their own life experiences while recalling past events and learning new things.
As part of our intellectual programming, PSU includes topics chosen by our residents varying from themes including the Civil War, specific decades, Norman Rockwell, and the Roosevelts.
Each theme is packed with lifelong learning opportunities such as
Slide presentations
Group discussions
Documentaries
Brain exercises
Short story reading groups
While our residents choose how much or how often they desire to participate, our staff-facilitated classes create strong feelings of purpose and belonging, improve quality of life, and enhance self-worth and confidence.
Wellness Wheel Model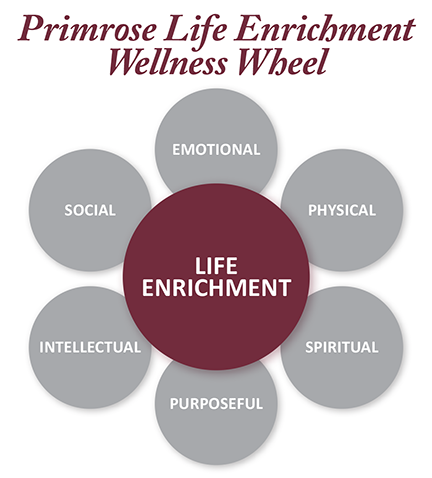 Providing a variety of programming reflective our each of our resident's interests is best achieved by offering a wide variety of programming based on our Six Dimensions of Wellness.
Purposeful – Creating opportunities to connect our residents back to the community is achieved by offering opportunities to volunteer and mentor. Sewing or knitting clubs, gardening, flower arranging, and intergenerational opportunities are only a few samples of what you may see on our calendars.
Emotional – This Dimension of Wellness stimulates the senses and moves us at a deeper level that may include musical opportunities, pet visits, poetry and painting, book clubs, virtual travel experiences, baking, and reminiscent groups in addition to penning the past, genealogy, and study groups.
Physical – Keeping our bodies working at optimum levels is best achieved through a variety of exercises and games that include stretch, balance, yoga, and cardio classes. All exercises can be completed seated or standing based on the resident's preference.
Spiritual – Spiritual wellness is a connection to something bigger than ourselves through traditional faith practices, personal beliefs or principles. Primrose offers many opportunities to keep your spiritual connection intact through worship services, bible studies, prayer or meditation groups, yoga, music, and even nature outings.
Intellectual – This aspect of programming always has the element of learning something new. Our PSU classes, lunch and learn events, documentaries, foreign languages, study clubs, visits to museums, and church history tours are a few of the ways we promote Lifelong Learning.
Social – Connecting with peers is important and Primrose offers multiple opportunities daily where our residents can enjoy each other's company. Gathering for morning coffee, ice cream socials, happy hour, and live music are a few of the more popular events. Tailgating, birthdays or other annual celebrations, and board or card games are a few more additional social interactions that are available in our community.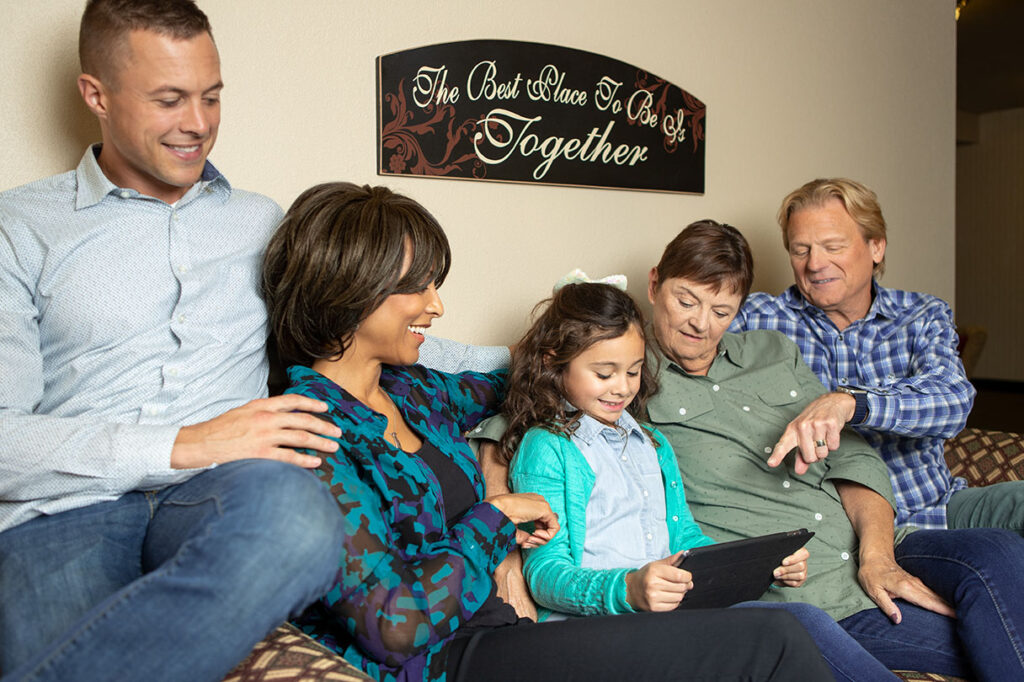 Keeping Families Connected
When it comes to your loved ones, Primrose understands the importance of staying connected.
To assist our families and residents in maintaining this connection, Primrose has partnered with Smile®. This unique, innovative, complimentary service allows family access to our calendars, newsletter, and menu through a secure mobile app or desktop web portal.
Families are also able to view which programs their loved ones are engaging in as well as offer support and encouragement to become more active if that is their desire.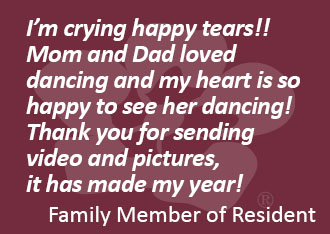 Families are able to communicate with our staff through Smile® to RSVP quickly and efficiently for community events they can also share additional information that can aid us in providing better person-centered opportunities.
Smile® allows our staff to share photos, videos, or updates regarding your loved one in real time when the presence of family or friends isn't possible.
Do you have questions about how you and your loved one can benefit from this innovative program?
Contact our Sales Director at wasilla-SD@primroseretirement.com
Start Living a Carefree Senior Lifestyle
Have questions? We're always here to help.
Contact us to learn more or take a tour of Primrose today!