At Primrose, we tailor our services to meet your unique needs and suit your preferred senior lifestyle. Proudly featuring Signature Programs, our retirement community is designed to meet the current and future needs of all of our independent living and assisted living residents.
Explore our Life Enrichment and Artisan Dining programs for more details about these popular senior living services.

Primrose Retirement Community is committed to our mission of providing happy, healthy and purposeful living for all residents.
By embracing a person-centered approach to care, we're able to provide more opportunities that encourage purposeful engagement, lifelong learning, creativity and much more!
Learn more about our senior living life enrichment programs.
---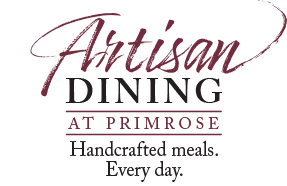 There's always something fresh and delicious to enjoy at Primrose. Our dining program has been completely refreshed to feature a true restaurant-style menu of handcrafted meals every day.
For full tasty details on the Artisan Dining at Primrose, click HERE!
---
Start Living a Carefree Senior Lifestyle
Have questions? We're always here to help.
Contact us to learn more or take a tour of Primrose today!