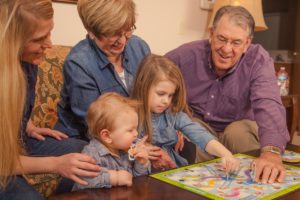 Most grandparents will tell you, time spent with their grandchildren is among the most special time of all.  The bonds formed through this relationship can provide grandchildren with memories to last a lifetime, and grandparents with a chance to pass on knowledge and tradition to a new generation. Here are a few things you can do with your grandkids to make this fall a memorable one:

Spend some time in the kitchen together
There are probably a few traditional family recipes the entire family asks you to make whenever you are together. Take some time to make one of them with your grandkids. Spending time together in the kitchen is a great way to teach them how to prepare fresh food, and it always leads to great fellowship as well.

Enjoy the outdoors together
Fall is a beautiful time to be outside. Find a place you can go with your grandkids to enjoy the fall leaves and cool weather. Perhaps you can pack a picnic lunch and head to the lake for a fishing trip. Or maybe a drive to the nearest state park for a picnic and a short walk through the nature trail together.

Answer questions
Ask your grandkids what they would like to talk about, and then take time to answer their questions. They may ask you about what it was like when you were a child, or how you met your spouse, or what your job was. Use your time together to tell them anything they want to know about you and your life. Your conversations will be memorable, and the bond between you will strengthen.  Above all else – have fun with them!

At Primrose, we love to see our residents having fun with their grandkids. If you or a loved one have
questions for us about making a move to a retirement community, we would be honored to help. Just visit www.primroseretirement.com to learn more.