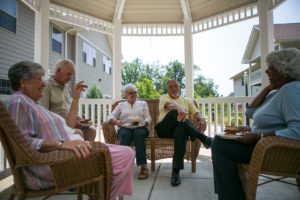 Retirement has many benefits. Among them is an abundance of time to do new things and meet new people. One of the greatest joys in life is making new friends, and you are never too old to enrich your life by bringing new ones into the fray. Here are a few things you can try to create new friendships in your golden years:
Volunteer your time
There is much you can give back to your community in retirement. Volunteering is good for your mental and physical health, and it puts you in touch with others who share the same passions as you. Building these connections often leads to lifelong friendships, and there are so many ways to serve. Just contact your local senior center or a Primrose close to you for a list of opportunities available, and get plugged in!

Consider working part time
Many seniors continue working part-time after retirement – not necessarily because they need the money, but because it helps them to stay active and meet new people. You may be surprised how many of these jobs are available in your community, and how flexible the hours really are. If you thrive when interacting with other people, this may be a good opportunity to explore.

Consider making the move to a senior living community
Everyone's situation is different. Some seniors live in areas surrounded by friends and family who are there to help them in times of need. Others may be more secluded, with family living far away and a diminishing circle of friends to keep them company. If you or a loved one are feeling alone, a senior living community may provide the answer. Both independent and assisted living arrangements provide increased safety and a social environment where residents are surrounded by their peers. It is easy to meet new people, and great friendships are born on a regular basis.

If you or a loved one have questions about senior living, Primrose would be honored to assist you. Just visit www.primroseretirement.com for more information.