If you are researching memory care options, it is important to be able to separate the fact from the fiction. There are many misconceptions floating around regarding memory care, but with a little bit of sound education, you'll be able to confidently work your way through the information minefield and find the best option for your loved one. To give you a head start, here are some important memory care myths to be aware of: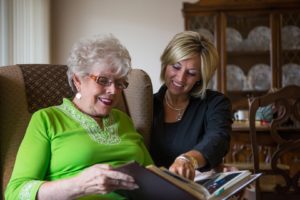 Gloomy gray floor tiles. Shared rooms separated by just a curtain. Indifferent staff. These are all figments of an outdated perception of what memory care communities are really like. Modern memory care residents enjoy beautifully designed private apartments, modern amenities, and a nursing staff dedicated not just to caring for their needs but enriching their lives by preserving and celebrating their identity and their legacy. In short, it is all about our residents.
Myth #2 – Memory care communities are not safe
Those living with dementia are generally much safer living in a community like Primrose than they would be living alone. Our nursing staff are here 24/7, so professional care is available any time it is needed. Our communities are also secured to help ensure that nobody comes or goes without the staff knowing. This provides peace of mind for family members and residents.
Myth #3 – Memory care communities are too expensive
When compared to many nursing homes or around-the-clock home healthcare, memory care communities can prove to be much more affordable than you might think. When researching your options, be sure to ask about doing a cost comparison with someone at the community so that you can see the benefit for yourself. You'll also want to ask about any options that may be available to you to get additional assistance in paying for care.
Myth #4 – It is best for everyone if I take care of my loved ones myself
What many caregivers learn is that as dementia advances, the demands on their personal time and their own physical and emotional health can become excessive. We want the best for our loved ones, and sometimes we feel guilty about asking them to make a move to a memory care community. Our jobs, families, churches, and community responsibilities already keep us very busy. Even though our intentions are good, the addition of caregiving to our already hectic schedules can lead to burnout. At Primrose, caregivers in our memory care communities participate in ongoing training to help them truly understand the process of dementia and how they can modify and adapt what they do each day to add meaning and value to our residents' lives.
Remember, if you need help, ask! Primrose can visit with you about your loved ones and help talk through what your next steps should be. We would be honored to help you. Just visit www.primroseretirement.com for additional information.