In the nineteenth episode of the 'Visits from the Heart' series, we continue to learn about our resident's rich life stories. BJ Schaefbauer, Primrose Retirement Communities President, visits with Dean M., a resident at the Primrose Retirement Community in Lancaster, Ohio, and a Coast Guard veteran.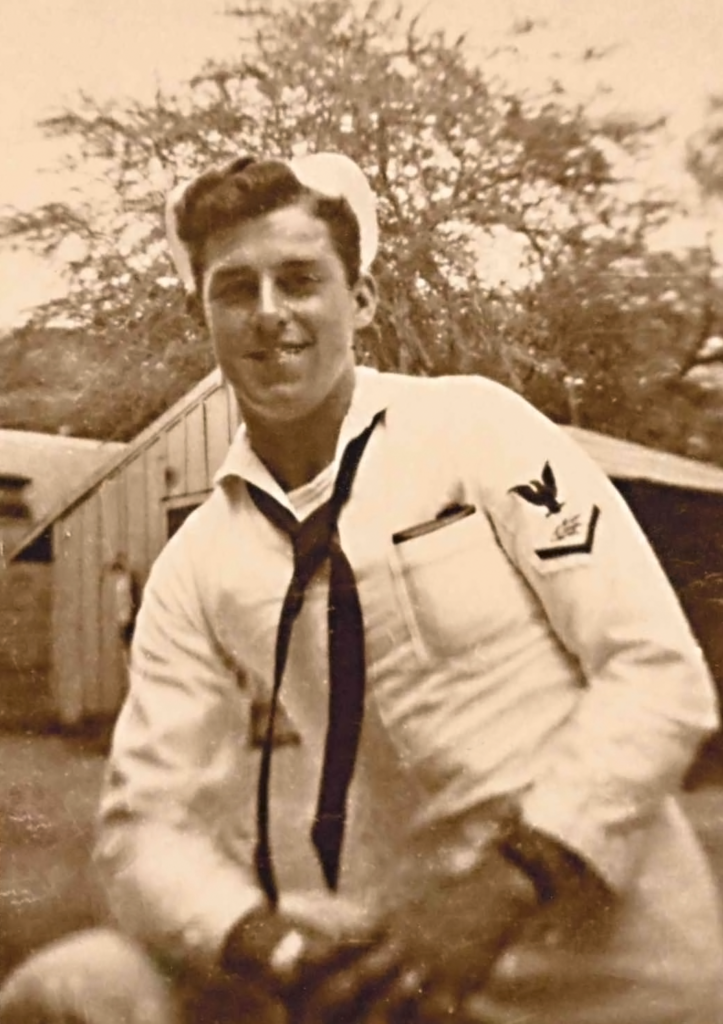 Dean begins his visit with BJ by sharing that he has lived in the Lancaster area for most of his life. Considering he is a youthful 93 years old; he really knows the area. He met his wife, Mary, in first grade and they started dating in high school. Right after his high school graduation, Dean enlisted with the United States Coast Guard.
His time in the Coast Guard started in Brooklyn, New York and then took him to Atlantic City, New Jersey for radio training of Morse code. Dean was in New York during the historic V-E (Victory in Europe) Day celebration on May 13, 1945. Even with tens of thousands of people celebrating, he coincidentally ran into a high school classmate who was returning from duty overseas. After his training he was assigned to Alameda, California and then to the Naval Station, Pearl Harbor in Hawaii in August of 1945.
At Pearl Harbor, Dean was assigned to the USS Orange (PF 43). The main task for his ship was to patrol for floating mines and destroy them. While his shipmates were searching for mines, he was using his Morse code training to monitor any enemy communications in the area. He tells BJ that they weren't the only ship searching for mines, but he only knows of one mine that was found and destroyed in his time aboard. He briefly adds that even though he was there a few years after the attack on Pearl Harbor, he could still see the destruction around the base.
With tensions building in southeast Asia, his ship was assigned to head to Japan. Just two days out to sea they encountered a typhoon. His ship was a 310-foot long warship which endured a 57-degree roll. As Dean tells it, only three more degrees and he wouldn't be talking to BJ today. Since V-J (Victory over Japan) Day had already taken place on August 15, 1945, their ship returned to Pearl Harbor.
BJ inquires why Dean chose the Coast Guard instead of another branch of military. Dean divulges that his brother, Bill, who was a couple years older, was in the Army. His brother did not care too much for the Army. Dean, much like a lot of children, looked up to his brother and instead of the Army, he decided to choose either the Navy or Coast Guard. As Dean puts it, he thinks the Coast Guard is one of the best in regard to branches of the military. Dean also confesses that he wanted to proactively make a choice as he knew his number was coming up soon for the draft and that would likely mean the Army.
When BJ asks about the differences between serving your country then versus now, Dean doesn't mince words. He thinks that people do not respect service members like they used to. Additionally, in his day military members were proud to wear their uniforms. He doesn't see much of that today.
After his time with the Coast Guard, Dean worked for 25 years with an Ohio chain of hardware stores. He retired from that company to start his own plumbing, heating, cooling, and electrical business. When Dean entered his final retirement in the early 1990's, His oldest son took over the business. Dean admits that through the travel with his business he was able to visit several different retirement communities in the area. Dean was already familiar with Primrose and knew it would be a good fit when the time came to move.
BJ winds down their chat by asking what Dean missed most when he was in the Coast Guard and away from home. Dean doesn't waste a moment exclaiming with a chuckle, "I missed my girlfriend!" She wasn't his girlfriend for long after his return from service. Dean and Mary married, had two sons and a daughter during their 73-year marriage. Unfortunately, Mary passed earlier this year.
As BJ and Dean bid each other farewell, they also both come to agree that more respect is needed for our service members and the US flag. We salute Dean for his service and all who have sacrificed their time and more, for our country.