Need help choosing the right time to move into a retirement community? Though the decision is entirely up to you and will depend on your unique needs and situation, there are certain times of the year when moving tends to be a little easier on you, your family, and even your finances.
After a long winter, the springtime often symbolizes new beginnings. The days are longer, the temperature is warmer, and we find ourselves eager to stretch our legs and explore the great outdoors again with friends by our side.
So, is spring and summer the best time to move into a retirement community? Let's discuss some of the benefits, as they relate to Primrose Retirement Communities.
Benefits of Moving During the Spring/Summer
Daylight/Weather
We all love the sunshine, especially after months of shorter days and cloudy weather. So, when spring starts to settle into our surroundings, we can't help but appreciate the fresh fragrances of flowers, the greener landscapes, and the longer daylight hours that seem to give us more energy to accomplish our goals.
If your goal is to move into one of Primrose's communities for seniors, you'll have more energy to make the necessary arrangements to plan your move.
Moving Expenses
There is also an added benefit of hiring a moving company to relocate your personal belongings to your new senior living home or apartment in the spring. In fact, you'll actually save on moving costs, if you decide to move during the spring, as most moving companies still operate under their lower winter rates vs. summer rates, when prices tend to increase (Movers.com).
It's also much easier for moving trucks to travel to your new home, when they're not dealing with extreme weather conditions.
Housing Market
Did you know that the prime real estate season starts in the springtime? According to realtor.com, "Spring marks the beginning of the busiest home-selling and home-buying season in most areas. With the warmer weather, more daylight, and the impetus to get a new house in order before the next school calendar begins, buyers are more likely to shop during this time of year, with home buying peaking in June."
Most home buyers begin their journey for the perfect home during the spring, so they are settled in by summer. So, if you're planning to sell your home to move into one of the best communities for seniors, the spring might be your ideal time to put your home on the market. You could expect better valuations and home sale prices, too!
COVID-19 Vaccinations
Seniors, and others who are at risk of COVID-19 complications, have had their share of challenges during this global pandemic. Simple routines like meeting friends for lunch, going to church, playing a round of golf, or just spending the day with grandchildren has been put on hold for the time being.  
With such uncertainties still ahead of us, you may struggle with deciding whether now (or later) is the right time to move to a senior living community. Or, if your loved one is in need of assisted living or memory care, this decision becomes equally difficult, as you want to do what is best for a parent or grandparent, without the added stress of putting them at risk of COVID-19.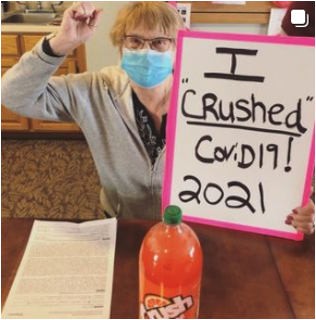 Primrose has been working closely with each state that we offer retirement living options for seniors to ensure we are in full compliance with all mandates and requirements. Part of this is providing access to COVID-19 vaccinations to all our residents and staff. By taking a proactive approach to COVID-19 prevention, while also ensuring every person who joins our community has access to the care and support they need, our residents feel confident and empowered when they make the move to Primrose, and they're families do too!
If you'd like to learn more about our mission to protect every resident from COVID-19 and provide a safe, vibrant community, contact us today for more details!
Other Ways Primrose is Protecting Your Health and Wellness
Health and Wellness Practices
In every community we manage, we take great care to ensure we comply with all state mandated policies concerning COVID-19, as they continue to be updated. 
This includes wearing masks to help prevent the spread of COVID-19, as well as other illnesses prone to this time of year. We provide each resident with cloth masks to wear in their apartments or townhomes when friends or family are visiting. We also have a policy that ensures masks are worn by family guests during the duration of their stay in our communities.
Carefree Senior Living
One of the many benefits of moving to a senior living community like Primrose is that our residents are given more freedom to do the activities they enjoy, rather than waste time on chores, maintenance work, or running errands.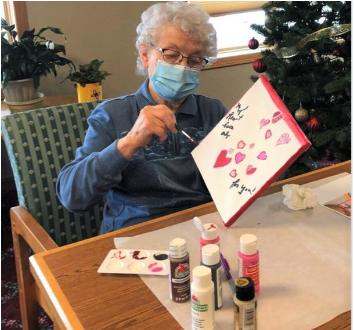 With COVID-19, this freedom is particularly important. We offer concierge services for delivery of groceries, medications, laundry, and more. This means your loved ones can stay in the safety of their homes and still receive the essential supplies they need.
We also offer an outstanding maintenance team to fix any issues in your apartment, and our facilities include a dedicated nursing staff 24/7 to ensure all residents have immediate access to care right in their own homes. 
Sanitized Social Areas
At Primrose, our goal is to provide a comfortable, convenient, secure and enjoyable environment for seniors. This means offering amenities onsite that include wellness centers, billiard rooms, laundry rooms, beauty salons and barbershops, libraries, and chapels for weekly prayer and worship. It's important to point out that all of these facilities are for resident use only, which means we have more control over the sanitization and maintenance of these areas to ensure our residents stay safe and have fun while doing so.
Weekly Activities Calendar
Incorporating daily activities that promote laughter, conversation, education, and exercise is an important part of our mission, and one we will continue to do so, in accordance with all safety protocols. These events range from book clubs, coffee meet ups, bingo, group discussions, and more! We also offer comfortable areas throughout our community spaces for residents to stretch their legs, read a book, or enjoy a quick chat with a neighbor.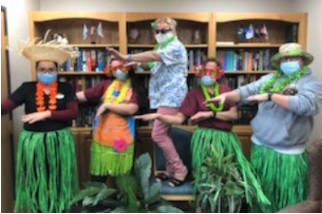 (Please note: Family member visitation protocols vary by community, according to all state and local regulations. Contact us for more details).
At Primrose, Our Residents Are Our Family
We know the road ahead will be long and require patience. But one truth we can all share is we're all in this together. If you still have concerns about moving to a senior or assisted living facility during COVID-19, we encourage you to contact our team today. 
We'll answer any questions you have and help you feel confident about your decision, so no matter the time of year, you can enjoy your time with us and live your best life possible.