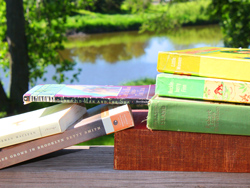 What is on your summer reading list?
Summer is here, and with it comes the question, "What will you accomplish this summer?" Will you take up that hobby you have always meant to start, finish that project that has been sitting in the closet since last fall, or will it be a more literary goal?
For many, summer is the time to catch up on their reading. Few things are more relaxing, rewarding, and enjoyable than grabbing a good book, kicking back, and enjoying the sunshine.
Not only is reading a great way to pass the time and increase your vocabulary, experts agree that reading regularly has major health benefits.
Regular reading has been shown to:
relieve stress and anxiety
help prevent brain disorders, including Alzheimer's Disease
contribute to the development of healthy sleeping patterns, especially if you read before bed
increase concentration levels
improve memory
The brain is like a muscle: it needs to be exercised regularly in order to function at the highest level. Reading regularly provides exactly the kind of exercise our brains need.
So, whether you are a book worm or are just getting back in the habit of reading regularly, take some time this summer to turn off the TV and computer, get comfortable, and crack open a good book.
Having a hard time choosing a book? Consider checking out one of the books from the current New York Times Best Seller's List:
Inferno

by Dan Brown

And The Mountains Echoed

by Khaled Hosseini

The Hit

by David Baldacci

Deeply Odd

by Dean Koontz

Forever of Ella and Micha

by Jessica Sorensen

Zero Hour

by Clive Cussler

World War Z

by Max Brooks

Sea Glass Island

by Sherryl Woods

12th of Never

by James Patterson

Beauty From Surrender

by Georgia Cates

Leopard's Prey

by Christine Feehan

A Different Blue

by Amy Harmon

Whiskey Beach

by Nora Roberts

Ender's Game

by Orson Scott Card
Just in case you are looking for something a bit more "classic," here are a few that we recommend:
The Great Gatsby

by F. Scott Fitzgerald

A Farewell to Arms

by Ernest Hemingway

Treasure Island

by Robert Louis Stevenson

A Tree Grows in Brooklyn

by Betty Smith

My Ántonia

by Willa Cather

The Old Man and the Sea

by Ernest Hemingway

A River Runs Through It

by Norman Maclean

Pride and Prejudice

by Jane Austen

Little Women

by Louisa May Alcott

Huckleberry Finn

by Mark Twain

Gone with the Wind

by Margaret Mitchell

To Kill a Mockingbird

by Harper Lee
Do you have a favorite book that you would like to recommend? Let us know by leaving a comment below.
by Dylan Kessler
Staff Writer