Part of the magic of being retired involves having the freedom to spend more time making memories with your children and grandchildren – especially if they live close by. It is not always so easy, though, for many whose loved ones live in other parts of the country – or the world. For those who can't walk across town and spend the day together with their families, there are other worthwhile methods of staying connected that are just as fulfilling and serve as a great way to "fill in the gaps" until you can see them again.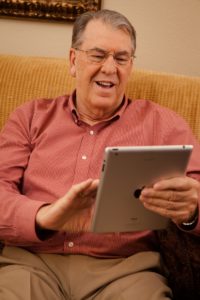 Utilize Technology
For the more tech-savvy among us, talking to loved ones anywhere in the world is as simple as a click of a button on a desktop computer, a tablet computer, or a cell phone. Popular programs like Skype and Apple's Facetime allow voice chat with video so you can talk to one another and see one another as well. If your device has a camera and a microphone, and if you have an internet connection, it is hard to find a more personal way to spend time with your family without actually being there! If you have a cell phone or tablet, you can also take photos and videos and share them with your family via social media like Facebook and also through emails and text messages. The more connected you are, the easier it will be for you to stay connected to loved ones no matter the geographic distance between you.

Don't Forget the Personal Touch
Nothing replaces the warmth and personality contained within the pages of a handwritten letter. There is something very special about reading a letter and knowing that the sender had you in mind when putting pen to paper. Getting into a routine of sending weekly or monthly letters will give your loved ones something to look forward to – and you can add a little extra magic by adding something to the letter each time. Maybe it is a coin you collected on your honeymoon, or a gift card to a favorite shopping destination. Remember – when you write them in this way,they will write back, giving you something exciting to look forward to as well. So what are you waiting for? It's time to start making memories!

If you or your loved ones are looking for senior living, Primrose would be honored to help. Just go to
www.primroseretirement.com for more info.