We're already nose-deep into pumpkin season, but if you haven't grabbed your bright-orange, soon-to-be Jack O' Lanterns yet, there is still plenty of time!
We want to share a few fun, fall-themed activities you can enjoy with the grandkids. These activities are perfect for every age and skill level. 
But before we dig in (pun intended), here are some strange yet fascinating pumpkin facts to share with friends and loved ones as you create beautiful pumpkin masterpieces this fall:
Pumpkin Facts & Trivia
Pumpkins are almost 90% water.
The world record for the largest pumpkin is 2,624 lbs.
Pumpkins were once considered a remedy for freckles and snakebites.
Morton, Illinois, is the "Pumpkin Capital of the World." The state itself harvests over 12K acres of pumpkins each year!
Pumpkins come from the squash family, but they're a fruit.
The first pumpkin pie was made by digging out a hole in the center of a pumpkin, cleaning out its guts, and then filling it with milk and honey before baking it.
Okay, now for the fun part!
Best Pumpkin-Themed Activities
If you plan to have the grandkids stop in for a visit, try these fun, creative ideas that everyone will enjoy!
Pumpkin Carving
Though traditional, good ole' fashioned pumpkin carving never goes out of style. But if you're carving with the grandkids, you might be hesitant since this activity involves sharp objects. If that's the case, here are a few safety tips to keep in mind.
Pumpkin carving safety tips
Leave the actual carving to the adults and the hollowing out of the pumpkin to the kids—After all, isn't that the best part?
If the grandkids are older, give them a pumpkin carving kit that uses stenciling tools designed specifically for this purpose. They also provide a better grip for added safety.
Avoid carving mini pumpkins (instead, use them for the next activity!).
Be sure to carve in a well-lit room.
Have a first-aid kit available in case of an injury.
Pumpkin Painting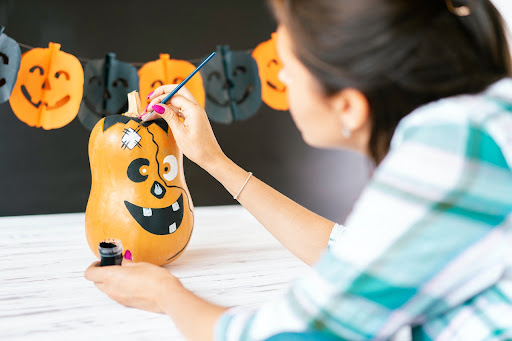 If you'd prefer to decorate your pumpkins without all the messy carving and removal of guts, grab a few brushes and some fresh paint colors instead.
Painting the outside of pumpkins allows the grandkids to flex their creative muscles and create one-of-a-kind pumpkins you can display in your home—once dried.
Remember to put down old newspapers and grab some oversized t-shirts to prevent paint from spilling on your carpet or clothes.
Pumpkin Decorating
In addition to painting, why not add a few extra pieces to make your pumpkins shine? From glitter to buttons, colorful beads, and stickers, you can easily decorate your pumpkins with a few items found around the home—and some glue.
Pumpkin Crafts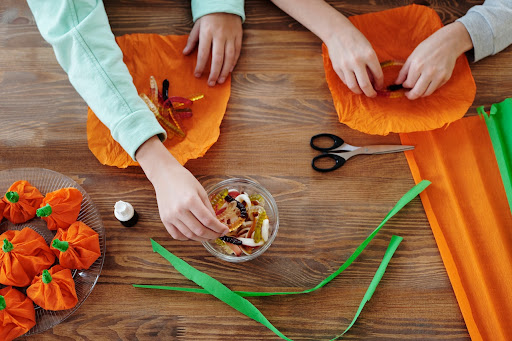 No one ever said you had to use real pumpkins. Suppose you're looking for a clean and safe craft that still offers a lot of fun, not to mention great gifts to hand out to your neighbors. Grab some orange and green tissue paper to create pumpkin treat bags if that's the case.
Fill them with a special candy, wrap the tissue around the treats, and tie them up using the green paper to look like a stem—and voila!
Pumpkin Cookies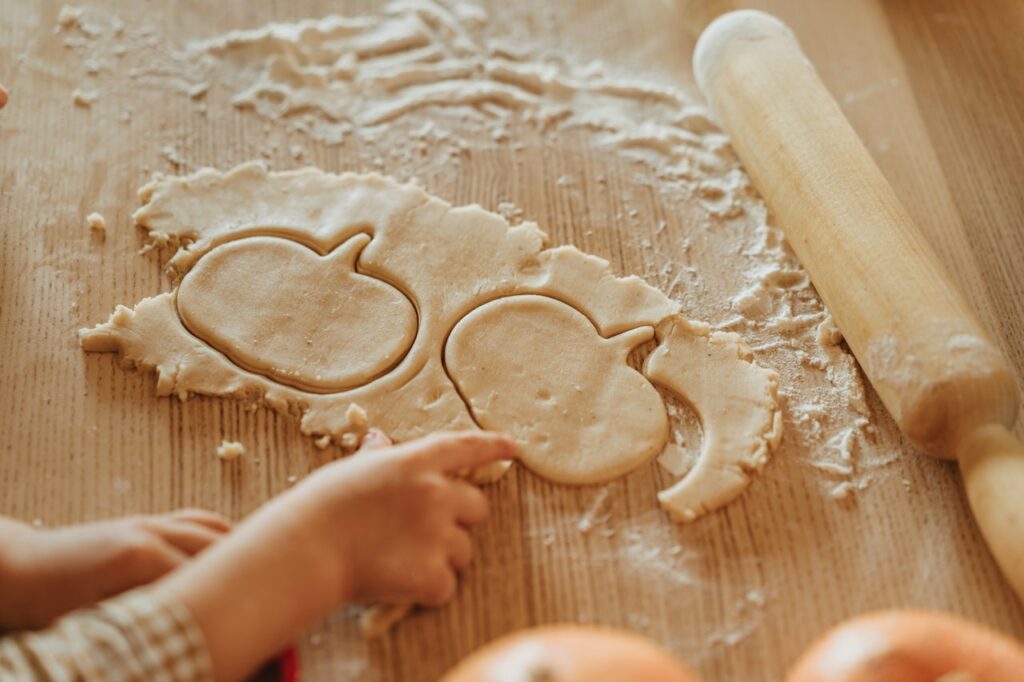 This activity involves no carving but tons of creativity—plus some taste testing!
Whether you use pumpkin-shaped cookie cutters or frosting to make the iconic orange pumpkin shape, this activity provides an entertaining way to spend time with the grandchildren and decorate for the season.
And once baked, the entire family can sit together to enjoy your delicious cookie creations.
Here are a few recipes you might try!
Pumpkin Decorating Contest
Depending on the type of activity (or activities) you choose from this list, there's nothing quite like friendly competition, especially between grandparents and kids!
Have each member of the family present their pumpkin creations. Then, you can choose a judge to make the final decision on the best pumpkin design or have everyone vote unanimously in a hat. The winner gets candy or gets to choose the family movie to watch that night.
A Few Pumpkin Tips
To ensure your pumpkins are in prime condition before the carving or decorating begins, here are a few helpful tips:
How to Preserve a Pumpkin before Carving
Remember that pumpkins need a cold, dry area with shade to stay in prime condition for carving or decorating. The outside of your porch or your garage is typically ideal. However, if the weather forecast predicts frost or rain, bring them inside overnight. Then, you can return them outside the following day.
Too much sun speeds up the decaying process, and too much moisture leads to mold. On the day you plan to carve, clean each pumpkin's surface. You'll just need a teaspoon of vinegar per one quart of water and a cloth.
Wait for it to air dry completely. You can also apply petroleum jelly (i.e., Vaseline) to uncarved pumpkins to keep pests away and to help preserve them all month long.
How to Preserve a Pumpkin after Carving
Once you carve pumpkins and expose their insides to the environment, the decaying process typically begins. Therefore, you'll want to submerge your newly carved pumpkins in a bathtub that's filled with 10 parts water and 1 part vinegar, allowing it to soak for up to 30 minutes.
As an extra layer of protection, apply Vaseline on its carved edges.
Stay Safe This Halloween
From all of us at Primrose Retirement Communities, we wish you a safe and pumpkin-filled October!
Check out our Facebook page to see other pumpkin craft ideas from our very own residents.
Follow Us on Facebook