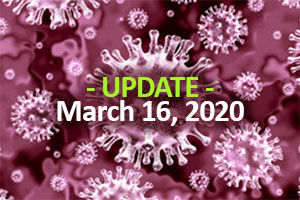 March 16, 2020 – Primrose is utilizing recommendations from the Centers of Disease Control and Prevention (CDC) and local and state health departments to implement precautionary measures against COVID-19 (Coronavirus). We have detailed plans in place in each of our communities for COVID-19. Our staff are trained in infection control practices and following those protocols every day.
The health and wellness of our residents continues to be our top priority. We are being proactive in efforts to prevent the virus from entering our communities. Below is a list of protocols we have implemented in all our Primrose communities:
There will be one point of entry (main entrance) into our communities.
Access is restricted to employees, essential third-party medical providers, and family members (wearing masks and limited to the resident's apartment) during certain situations such as end of life care. We encourage family members to communicate with loved ones via phone calls, emails, video chat, or other remote options.
All persons entering our community will immediately clean their hands using alcohol-based sanitizer and be screened.
All incoming Primrose employees will be screened upon returning for their scheduled shift.
There will be daily screening of all Primrose residents.
Transportation will be provided only to medically necessary appointments (as determined by leadership team).
We will be utilizing complimentary tray services for all meals and modifying community dining options.
All group activities have been cancelled. Alternative options are being developed and offered.
Vendor deliveries will be made to outside zones for staff to deliver.
Infection control practices, including frequent cleaning and sanitization, are being followed.
For more information on COVID-19, please visit www.cdc.gov.