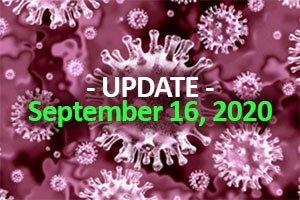 The safety and wellbeing of our residents and staff remains our highest priority. Company-wide, we are taking precautionary measures, closely monitoring and following guidance from the Centers for Disease Control and Prevention (CDC) and our state and local regulatory agencies. Our responses continue to evolve as we receive updated information and recommendations.
We have been pleased at how effective our precautions have been, and we certainly cannot remove them without proper consideration. Know that we are continually monitoring and reassessing our precautionary measures to ensure that we are making the most prudent and conscientious decisions. As conditions change and improve, we will be strategic in making changes to and eventually reducing these measures.
As we operate in 18 states, there are varying regulations and recommendations from local and state agencies. We ask that you contact your local Executive Director for specific, up to date information on our protocols in a certain location.
Precautionary Measures in Place:
Every community is taking the following precautionary steps to stop the spread of disease:
All residents will be asked to wear cloth masks inside the community anytime they are not alone in their apartment.
Family member visitation protocols vary by community according to state and local regulations. If allowed, both the resident(s) and visitor(s) must wear masks for the entire visit.
There will be one point of entry (main entrance) into our communities for employees, essential third-party medical providers, and approved family members and visitors.
All persons authorized to enter our community will immediately clean their hands using alcohol-based sanitizer and be screened using a questionnaire and temperature check.
All employees will wear masks in our buildings at all times.
There will be daily screenings of all Primrose assisted living residents.
Infection control practices, including frequent cleaning and sanitization, are being followed.
Protocol for suspected or confirmed cases:
If there is a suspected or confirmed case in any of our communities, the plan is to continue to fully comply with guidance from the CDC and local and state health departments.
For more information on COVID-19, please visit www.cdc.gov.
Thank you for your cooperation as we all work together to keep our residents safe. If you should have additional questions specific to your local Primrose community, please contact the community to speak with the Executive Director.