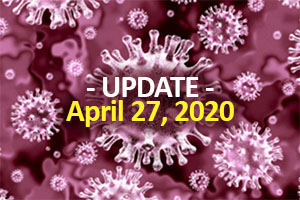 Primrose Family,
With the increased discussions across the country regarding reopening businesses and select sectors of our economy, we have had questions from some of you as to our plans. While we are anxious to get back to normal, our focus continues to be the safety and health of our residents. Therefore, we will be maintaining our precautions in our community for at least the near future.
We have been pleased at how effective our precautions have been, and we certainly cannot remove them without proper consideration. Know that we are continually monitoring and reassessing our precautionary measures to ensure that we are making the most prudent and conscientious decisions. As conditions in our area change and improve, we will strategic in making changes to and eventually reducing these measures. However, at this time, our precautions remain in place.
We appreciate your continued support and understanding as we continue following the recommendations of the Centers for Disease Control and local Departments of Health. As always, we are honored by the trust you have placed in us, and we look forward to continuing to earn and deserve that trust.
If you have specific questions about our precautions or would like to discuss further, please contact your local community.
Sincerely,
Primrose Retirement Communities