Over the last few months, the leaders in senior living have created policies that they never imagined would need to be implemented. Seniors across the country have had to surrender some of their freedoms to these policies. Staff members go through multiple screenings every day, sometimes feeling scrutinized for activities off shift.
All of this for one collective goal – to keep our seniors safe. We are senior living. We work in their homes. Often, we become part of each other's families. Whether it was last year or next year, what we do day in and day out for the fulfillment of day-to-day life for our senior residents will not change.
In light of of all of this, the leaders at Primrose Retirement Communities have taken time to talk with our residents and their families over the last few weeks. These conversations came from a genuine desire to know how Primrose residents are doing during this unique and multi-faceted time in our history.
---
Waneta and Brian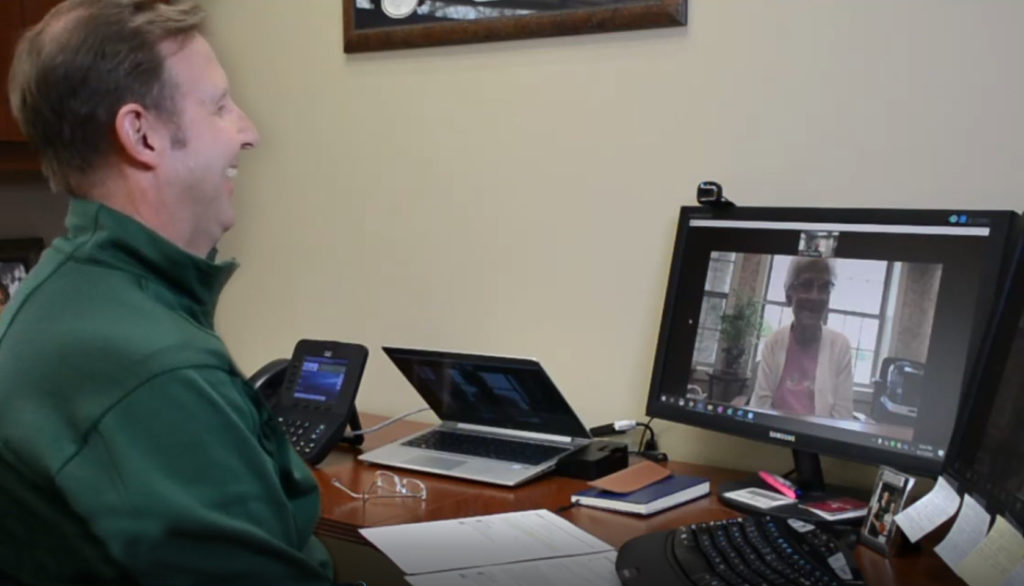 On a late April afternoon in Aberdeen, SD, Primrose Retirement Communities CFO Brian Morgan chats with Waneta, an independent living resident at Primrose Retirement Community in Decatur, IL. Waneta is one of a handful of centenarians that thrives at Primrose.
Waneta is a cheery soul with a natural smile always aglow on her face. While their conversation was a virtual one, it seemed like an easy chat between old friends across the table. As she sits in front of a sunny window, she tells Brian how happy she is to share her experiences during this uncertain time and adds with a chuckle, "I have lots of time!"
Waneta continues on by saying, "I don't think I could feel any safer any place else. If this is the way it has to be then I'm all for it." She even shares with Brian that they are feeding her so well that she just may have to get rid of her bathroom scale. We have a suspicion that she won't be alone once this has passed.
She informs Brian about the exercises and activities that are still going on at Primrose, although they may be limited and happening in a much different way than before. Some of the activities are even done inside the resident's apartments. Waneta discloses that she doesn't mind being alone in her apartment as she knows she has neighbors staying safe inside too. Instead of their usual Friday happy hour gathering in the Primrose Pub, it now takes place in the hallway outside their apartments. "We walk out in the hallways, and I always wind up with a candy bar or a root beer or whatever," Waneta reports about the new weekly version of happy hour.
Brian asks about how the staff have been through all of this. "I have nothing negative, I'm not too hard to please," Waneta shrugs. While she mentions that the staff don't always do things the way she would, she is just glad things are getting done and that she doesn't have to do them.
Communication is vitally important for all of us now, especially our seniors, and Waneta speaks to her son and daughter often. In fact, when all of this is over, Waneta plans to go to her granddaughter's house which is just outside of Decatur. She looks forward to also seeing her daughter and two great-granddaughters during that visit. With an adventurous chuckle she adds, "Well hopefully it's warm enough that we can get in the pool." Over 100 years old and she's still looking forward to a little pool time! Waneta is a treasure to anyone who gets a chance to meet her.
---
Barbara and Mark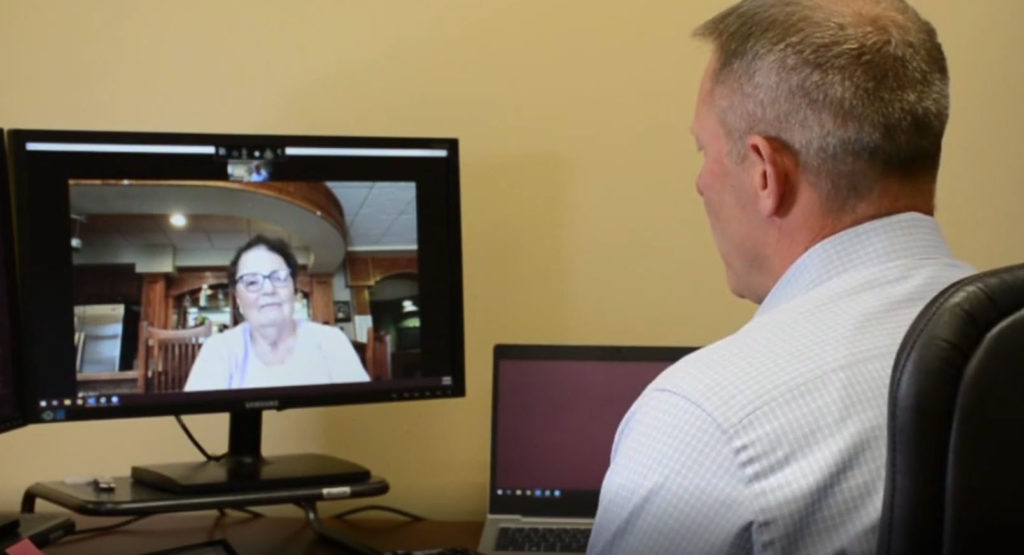 Next, Mark McNeary, General Counsel for Primrose Retirement Communities, visited in early May with Primrose resident Barbara from Gillette, WY. Barbara, and her dog Miley, moved to Gillette from the Oregon coast earlier this year to be closer to her daughter.
Barbara, seated in the sunlit Primrose Pub starts off by informing Mark, "I'm doing well, really well. They make sure we have everything we need, and they check on us often. And everybody's so friendly, that I think I found paradise." As you can imagine, that is music to Mark's ears that our mission is being fulfilled.
Barbara goes on to share with Mark all the activities that are taking place, such as bingo, Louis L'Amour book readings, walking in the hall, and chair exercises to name a few. Barbara, whose effervescent personality bridges the miles, goes on to explain that the abundance of activities helps to "keep you on your toes. There's a lot to do… you just get up and it's time to go to bed, the time goes so fast." Sitting in her room, and doing nothing simply isn't acceptable, as Barbara said, "I need to move."
Finding ways to stay positive in all of this are important as well. Fortunately, Barbara has some four-legged help on that front. Her West Highland Terrier, Miley, encourages her get outside for some fresh air and a walk several times a day. Mark also had a West Highland Terrier, so they both appreciate the high energy and attitude that can keep a dog lover active.
Being sedentary is not something this nurse of nearly 40 years knows much about. Barbara reveals that she spent most of those years in a small-town hospital working in many different departments and even in leadership later on. In her words, she was a, "well-rounded RN, I know a little bit about a lot of things."
The hardest thing for Barbara over the last few weeks is how much she misses her daughter. After Barbara moved from several states away to be closer to her, it can still seem like she is miles away instead of a few blocks. "Just to get to see them will be wonderful, you know, I can't wait to hug my daughter," Barbara states.
She just keeps trying to stay positive which is easy in her paradise at Primrose. Barbara declares, "nothing you can do to make it better. In fact, it's really nice because they're making sure that we're protected, they really protect us. I'm not going anywhere."
We aren't going anywhere either Barbara. We are so happy that you (and Miley) have found a safe new home, closer to family, at Primrose.
---
If you have questions about how a move to a Primrose Retirement Community may be beneficial to you or a loved one, please visit www.primroseretirement.com for location near you.