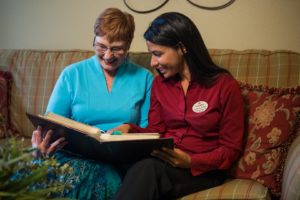 According to a report from the Centers for Disease Control and Prevention, 39.6% of residential care community residents have been diagnosed with Alzheimer's Disease or other types of dementia.  The same is true for approximately 20% of current Primrose assisted living residents, and the need for memory care support continues to grow rapidly.
Improving Resident Care
In keeping with one of its core values, Relentless Improvement, Primrose is working to better support its current and future residents' needs by providing person-centered memory care services.  Primrose Executive Director of Nursing, Kathy Gerdes, explains: "After surveying our communities and learning that we had a need for dementia support among our assisted living residents, we began researching how we could improve their care," said Gerdes.  "It was during this period of research that Primrose made the decision to move forward in providing memory care services," she added.
Primrose sought assistance from Jayne Clairmont and Nancy Schier Anzelmo – consultants and national leaders in the care of those with dementia.  This marked the start of a year-long journey in the development of a signature memory care program for Primrose.  "With the help of our consultants and architectural group, we were able to design a contemporary memory care community that will facilitate a person-centered care approach," Gerdes said.  "It will allow both small and large group activities, quiet spaces, an outdoor courtyard, and apartments designed to calm and relax our residents.  What will truly set us apart, though, is getting to know each resident and developing a unique plan of care built around their individual needs.  In the end, it is all about comfort, safety, well-being, and quality care," Gerdes added.
Now is the Time
"It is a natural progression for Primrose to provide memory care services," said BJ Schaefbauer, Primrose President.  "Moving into the future, we plan to add memory care in all of our new markets.  It is a good fit for us since we already offer independent living and assisted living services," he added.  In certain markets, like Newburgh, Indiana, Primrose includes stand-alone memory care communities alongside their combined assisted/independent living counterparts.  In other locations, like Rogers, Arkansas, assisted living and memory care are combined in one community.
"Primrose has established a reputation for excellent care," Gerdes said.  "We look forward to carrying out this standard of quality in our memory care services well," she added.
If you are researching memory care options for a loved one, Primrose would be honored to assist you in your journey.  Just visit www.primroseretirement.com for more information.