Summertime is here! Green grass, family vacations,camping, and the warmth of the sun are just some of the things that make this among the most fun and relaxing times of year. Because we do so many things outdoors in the summer, it is vital to be certain that we are prepared for the heat. Let's look at three things we can do to stay cool and safe this season.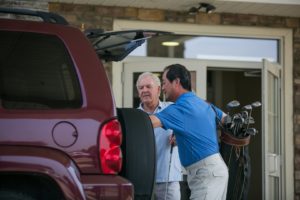 Stay Hydrated
As we age, it can become more difficult for our bodies to produce sweat or to adjust to sudden changes in temperature, like going outside on a hot day after being inside of an air-conditioned room. This can increase risks for heat exhaustion and heat stroke, especially in those who are not taking in enough water. A common mistake people make is thinking that drinking juice or soda pop is contributing to them staying hydrated. Many of these drinks contain ca?eine and sugar, which can actually contribute to dehydration. If you know you will be spending time outdoors, it is best to drink water before you leave, and to bring water with you so that you can drink along the way.

Made in the Shade
Even though you may not be able to stay in the shade all the time, remember to seek it whenever you can. It is much cooler under a canopy or a tree than directly exposed to the hot sun. It will help you to conserve energy and avoid sunburn that can come from prolonged exposure. It is also a good idea to remember to cover windows in your home on hot day. Aside from helping you stay cool, it will also save you money in energy costs.

Educate Yourself
Be on the lookout for signs of overheating, and if you are experiencing them see a doctor immediately. These symptoms include:

1. No sweat on a hot day
2. Nausea or vomitng
3. Headaches
4. Difficulty breathing

If you or a loved one have questions about this topic or about senior living options in general, Primrose would be honored to assist you. Just visit www.primroseretirement.com for more information.